Season Start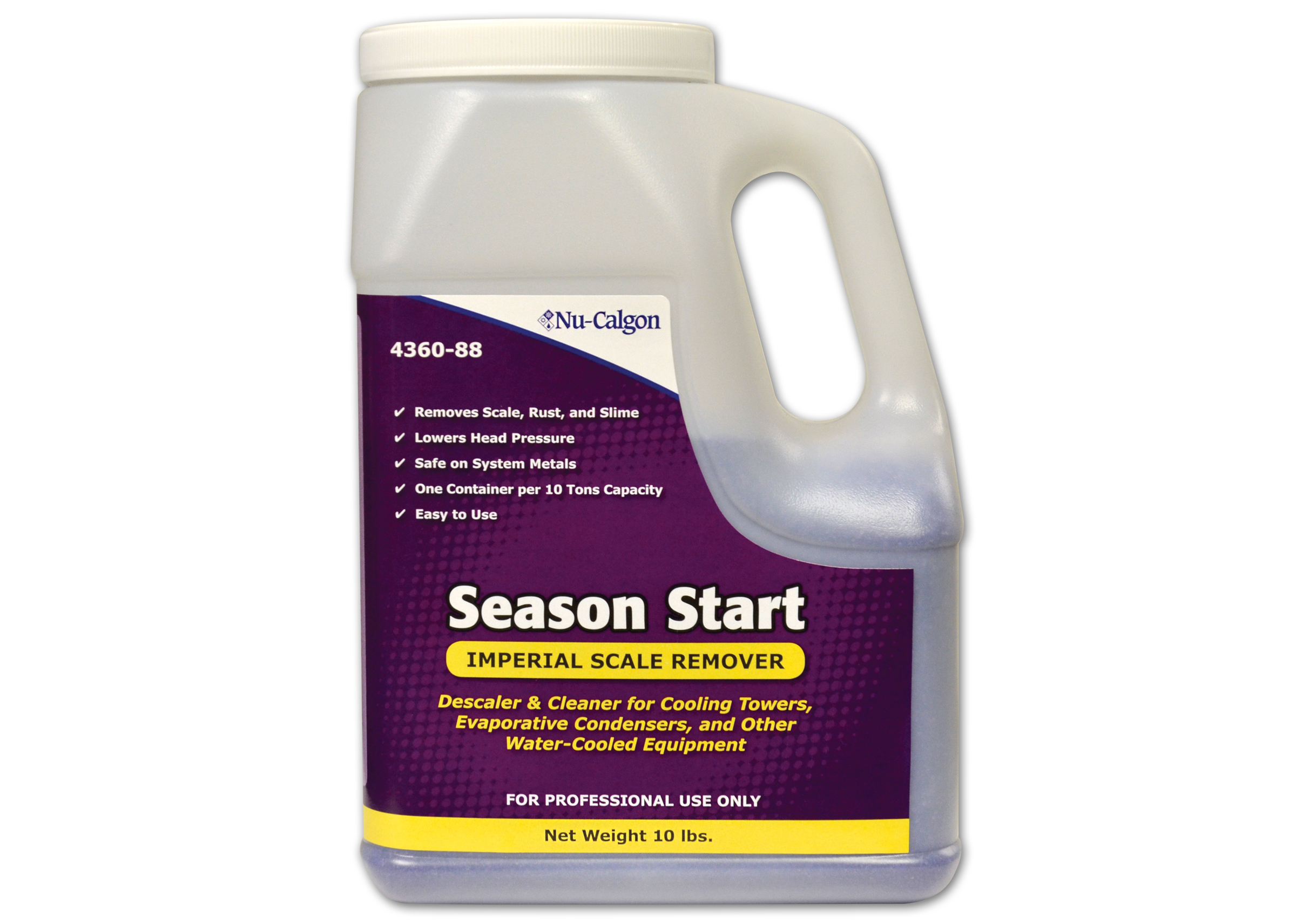 Lowers head pressure
Removes scale
Safe on all system metals
Safe and easy-to-use… use one container per 10 tons of cooling capacity

Description:
The best and the safest dry cleaner. Season Start is a powdered sulfamic acid formulation that contains the best inhibitors available for protecting all metals including galvanizing. A built-in pH color indicator shows how much to use, when to add more and helps tell when the system is clean. A wetting agent and an anti-foam agent are included to help it do a better cleaning job. Season Start lowers head pressure, removes scale, and is safe on all system metals. It's easy-to-use. Use one container per 10 tons of cooling capacity.
| Packaging Size | Part Number | Additional Info |
| --- | --- | --- |
| 50 lb. Container | 4360-84 | |
| 10 lb. Container | 4360-88 | |
Directions:
This product must be used in accordance to the following directions by HVACR professionals only.
Shut off bleed and makeup water.
Drain sump. Scrape or hose down loose scale and algae from slats or coil. Flush out all loose sediment from sump.
Fill system with fresh water.
As a starting dosage, use 10 pounds of Season Start for each 50 gallons of water in the system.
The recirculating water will be "green" or "light blue" in color for proper strength. When the solution turns "deep blue" or "purple" more Season Start is needed, add another dose equal to the first. Continue to repeat this process until you can maintain the cleaning solution at the proper strength (green color) for 2 hours. Completely flush the system after every third addition of product. If the system contains a lot of dirt, rust, algae, etc., so that the color indicator does not show up well, pH litmus paper may be used to double check the strength of the cleaning solution.
Drain and flush out the sump again, removing all Season Start solution along with any loosened dirt and silt.
Fill the system with fresh water and open bleed.
The clean system should now be treated with Nu-Calgon's Season Treat (4364-88), the once a season tower treatment for the prevention of scale build-up and corrosion.
Note: To descale larger systems, Season Start is available in a 50 lb. pail, known as Imperial Scale Remover (4360-84).
Product Information:
Literature Downloads
Download the product bulletin and other relevant literature here.
Labels
Download a low resolution file of the product label here.