Spray Adhesive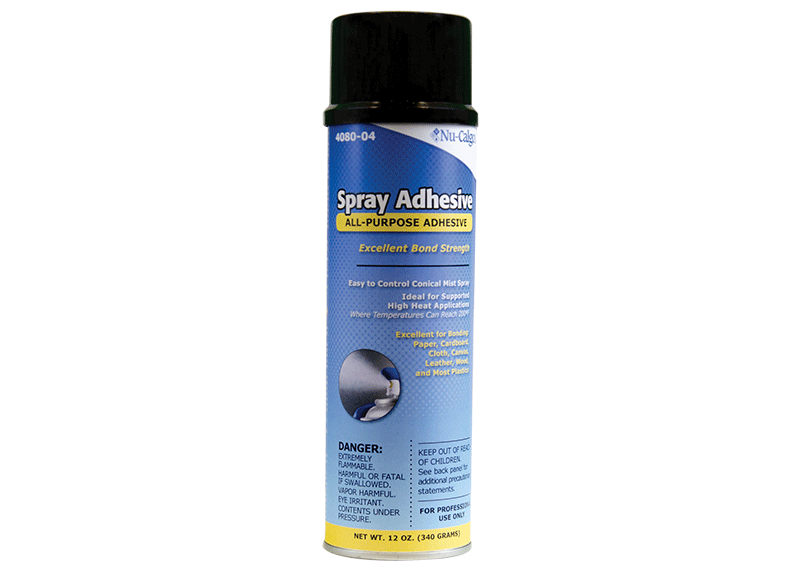 Fast-drying, all-purpose adhesive spray
Strong, water-resistant, flexible bond
Does not bleed through material
Description:
This advanced formula mist spray adhesive is the one true all purpose adhesive. This unique product utilizes an advanced rubber system to create a product versatile enough for everything from light to heavy duty jobs. Applications for this product can be found throughout general industry for bonding fabric, plastics, felt, cork, paper, corrugated, wood, most metals, and a variety of other materials. It's high heat resistance (over 200°F) allows use in a variety of environments including applications in engine compartments, around boilers, air conditioners and quick tack on headliners. This product has a conveniently long open time to allow for repositioning and adjustment when affixing surfaces to be bonded. Another feature is a moderate flow rate spray valve to provide over-spray control in a mist adhesive. The non staining formula is pressure sensitive with fast tack and forms a temporary or the ultimate permanent bond. Formulated with the environment in mind, this product contains no chlorinated solvents, carcinogens, or ozone depleters and cleans up easily with mineral spirits.
Packaging Size
Part Number
Additional Info
12 ounce can
4080-04
Directions:
This product must be used in accordance to the following directions by HVACR professionals only.
ALWAYS SHAKE WELL BEFORE USING.
Never aim valve at face. Hold can upright and apply light film in a circular motion 10 to 14 inches from surface.
TEMPORARY BONDS: Apply coat to one surface. Wait 30 seconds for tack to occur and then press surfaces to be bonded together using firm, even pressure.
PERMANENT BONDS: For permanent or porous surfaces bonding, apply adhesive to both surfaces, wait one minute, then press together using firm, even pressure.
CLEANING SPRAY TIP: When finished with a particular spray application, always turn can upside down and spray for two seconds to clear valve and prevent clogging. If adhesive accumulates around nozzle, wipe clear while wet. If dried in valve opening, remove with degreasing solvent such as mineral spirits.
NOTE: Not for use on plasticized vinyls.
Product Information:
Literature Downloads
Download the product bulletin and other relevant literature here.
Labels
Download a low resolution file of the product label here.
Product Safety
AEROSOL, SPRAY ADHESIVE 6X12 OZ CS