Food Grade Silicone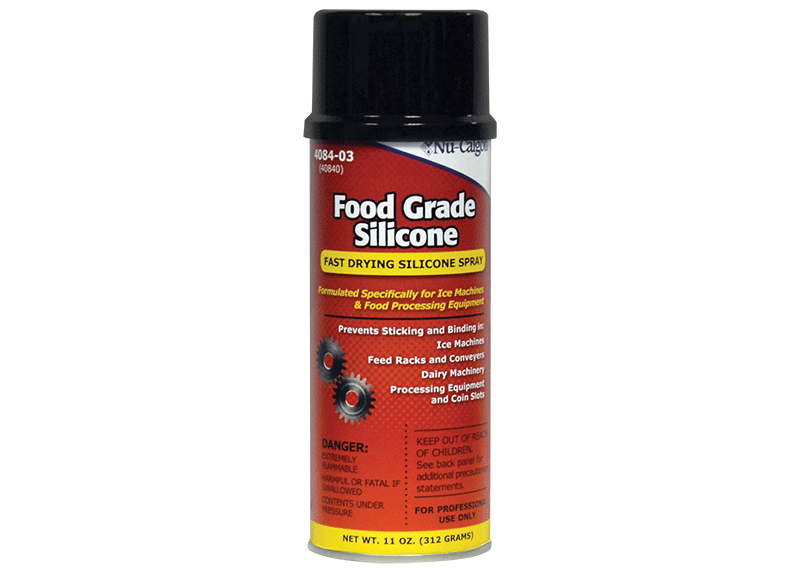 Applies a non-stick coating
Use on ice machines, vending machines, food processing equipment and more
Prevents binding and sticking
FDA and USDA approved
Description:
This ultra fast drying silicone spray is formulated specifically for the needs of the ice machine and food industries. This medium viscosity formula provides light lubrication for ice machines, coin slots, guides, belts, slicing machines, ovens, mixers, grinders and other processing equipment. This product is ideal for use as a lubricant with incidental food contact when used in compliance with 21 CFR 178.3570. 
Applicable areas include those such as knives, cutting tables and blades, conveyor system maintenance, bottling and canning machinery, bakery equipment, dairy equipment, feed racks, in bars and restaurants, and virtually any equipment or machinery in or near food related areas. In addition, this product meets requirements for use in federally inspected meat and poultry plants. This silicone meets 21 CFR 175.300 for Resinous and Polymeric Coatings intended for use in producing, manufacturing, packing, processing, preparing, treating, packaging, transporting, or holding food. The silicone is colorless, odorless, heat stable and nonstaining. This hexane-free and low VOC formula contains no ozone depleters, carcinogens, or chlorinated solvents. In addition, the fan spray pattern reduces overspray and waste.
Packaging Size
Part Number
Additional Info
11 ounce can
4084-03
Directions:
This product must be used in accordance to the following directions by HVACR professionals only.
Remove cap and rotate actuator to dot on valve cup. Hold can upright and spray onto desired surface from a distance of 12-14 inches. Spray in a sweeping side-to-side motion. Any accumulation will rapidly dry out unassisted. Avoid using in areas where paint is being applied.
IMPORTANT: This product will damage some plastics and painted surfaces. Do not allow product to pool on surfaces and protect surrounding areas from slippery overspray when needed. Always test in an inconspicuous area if unsure of material compatibility.
NOTE: This product is not intended for use as a food additive.
Product Information:
Literature Downloads
Download the product bulletin and other relevant literature here.
Labels
Download a low resolution file of the product label here.
Product Safety
AEROSOL, FOOD GRADE SILICONE 6X11 3/4 OZ CASE