V-Belt Dressing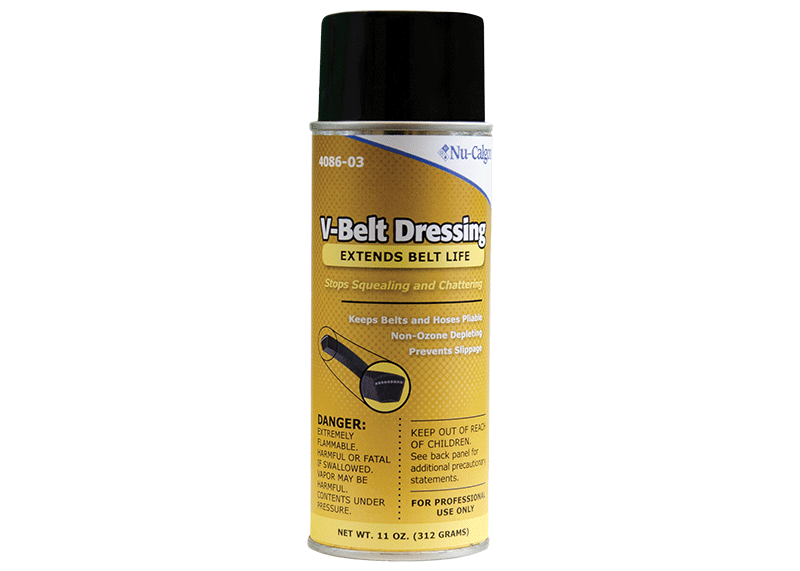 Keeps belts pliable and prevents slippage
Does away with squealing and chattering
USDA Approved
Description:
Especially formulated for V-Belt applications. Formula contains neither asphalt nor rosin. Will not glaze, will not collect dirt - actually cleans belts of accumulations. Ideal for wet, outdoor conditions. Can also be used for leather, rubber, canvas and other fabric belts–flat or round. Perfect for all industrial belt drives.
IMPORTANT: Do not use on serpentine belts.
Packaging Size
Part Number
Additional Info
11 ounce can
4086-03
Directions:
This product must be used in accordance to the following directions by HVACR professionals only.
SHAKE well before using.
SPRAY directly on V-Belt top and bottom, with or without engine running.
OPEN and shut the valve completely. Keep your fingertip out of the spray so as not to form droplets.
To avoid possible clogging, turn the can upside down and spray a short jet of clear gas after completing each job.
NOTE: To use entire contents, hold spray-head and rotate can until material sprays.
Product Information:
Literature Downloads
Download the product bulletin and other relevant literature here.
Labels
Download a low resolution file of the product label here.
Product Safety
AEROSOL, V-BELT DRESSING 6X11 OZ CS