CleanVu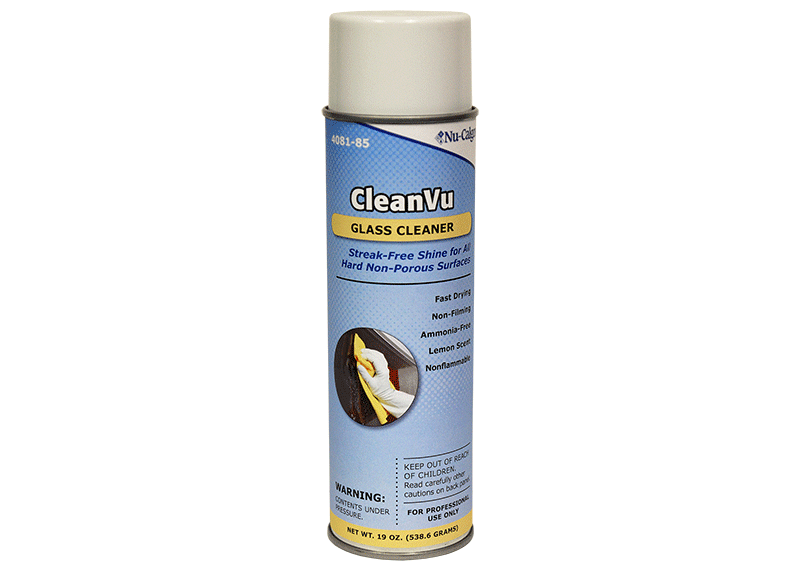 Streak-free shine
Fast-drying, non-filming
Convenient aerosol spray
Ammonia-free
Description:
CleanVu is a highly effective aerosol cleaner for glass and all hard, non-porous surfaces. Its fast-drying, non-filming formula cleans dirt and grime, providing streak-free shine.
Ideal for cleaning glass doors on refrigeration cases, CleanVu leaves behind nothing but clear shine and a pleasant lemon scent. Simply spray on glass and wipe off with a soft cloth.
Packaging Size
Part Number
Additional Info
19 ounce can
4081-85
Directions:
This product must be used in accordance to the following directions by HVACR professionals only.
Shake before using.
Hold can eight to ten inches away from surface and spray CleanVu directly onto surface.
Spread evenly over surface to be cleaned with lint-free cloth or paper towel.
Wipe dry with a clean, lint-free cloth or paper towel.
Product Information:
Literature Downloads
Download the product bulletin and other relevant literature here.
Labels
Download a low resolution file of the product label here.
Product Safety
CLEANVU GLASS CLEANER 6X1 CASE
RTK Information
CLEANVU GLASS CLEANER 6X1 CASE