Pump Protector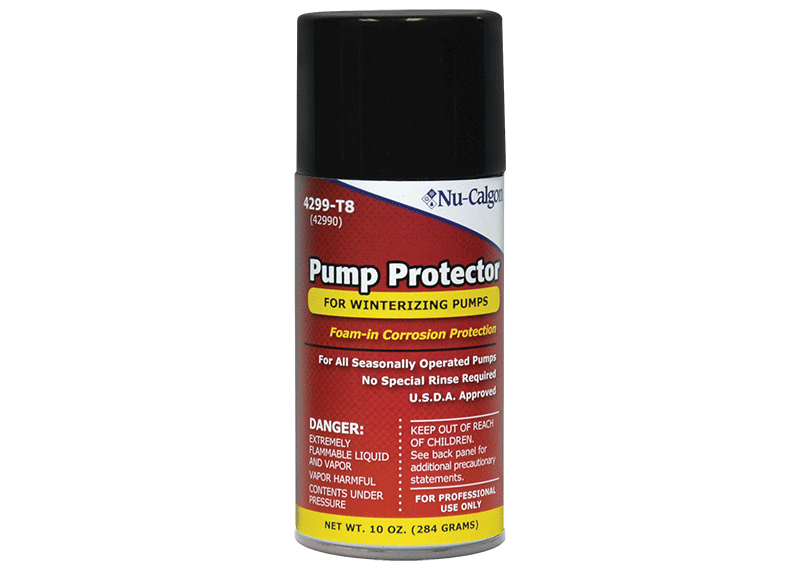 Protects against corrosion and ends-pump impeller binding
Convenient aerosol package
Safe for all types of water pumps
One can is enough for most pumps
Requires no special rinsing at startup
Protects pool pumps throughout the winter
Description:
Foam-in Shut Down Corrosion Protection for All Types of Pumps
Any pump that is shut down and drained part of the time should be safeguarded with Aerosol Pump Protector. Pumps used in cooling towers, swimming pools and vacation homes, auxiliary pumps, marine and industrial pumps can develop corrosion deposits on the impeller and other close-tolerance areas during shut down, causing the pump to bind. Aerosol Pump Protector prevents this corrosion and lubricates the pump so that it starts right up every time! Pump Protector is water soluble and will not cause any foaming problem when the pump is started. If the pump is used for drinking water, flush it thoroughly by running water off a few minutes before placing the pump back in service.
Packaging Size
Part Number
Additional Info
10 ounce can
4299-T8
Directions:
This product must be used in accordance to the following directions by HVACR professionals only.
PUMP SHUT-DOWN
DRAIN the pump.
SHAKE can well before using.
ATTACH plastic extension tube (located inside cap).
Be careful not to press side ways while attaching tube.
INVERT can, placing tubing into drain opening of pump.
ACTIVATE can by pressing nozzle sideways until empty. One can of Aerosol Pump Protector provides sufficient material for coating most pumps; more will be needed for large pumps.
RUN pump a few seconds or rotate shaft by hand to coat all surfaces.
PUMP START-UP
Flush pump thoroughly with water before bringing it back to service.
Product Information:
Literature Downloads
Download the product bulletin and other relevant literature here.
Labels
Download a low resolution file of the product label here.
Product Safety
PUMP PROTECTOR, AEROSOL 12X10 OZ CS