Cal-Shield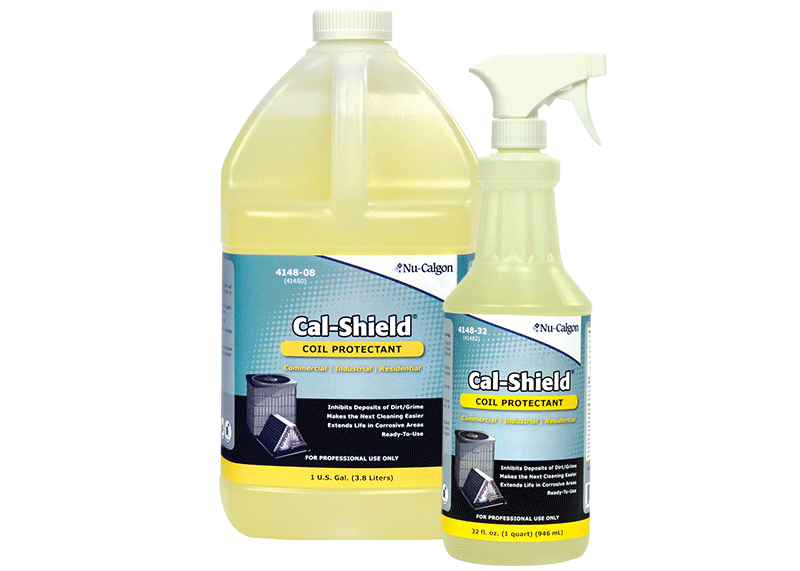 Forms protective shield on coils
Reduces ability of dirt and grime to adhere to coil
Makes next cleaning easier
Extends life of coils operating in corrosive environments like salt air and food acids
Enables coil to perform at designed efficiency

Description:
Cal-Shield is a synergistic liquid formulation surface protector. It is specifically designed for application on air-cooled condensers, evaporator coils and other finned heating and cooling coils where it forms a micro-thin or molecular film coating. Once applied, Cal-Shield will shield and protect the coil from adverse conditions within the operating environment.
Use of Cal-Shield will allow the coil to operate for longer periods between cleaning. Once Cal-Shield is applied to the cleaned coil, it forms a protective shield that helps the coil resist the depositing of dirt and grime so that moisture will "bead up" and run off. This enables the coil to perform more efficiently for a longer period of time. And, where coils are installed in aggressive environments such as salt air and food coolers, the coating will extend the coil's service life in this corrosive environment.
| Packaging Size | Part Number | Additional Info |
| --- | --- | --- |
| 1 gallon bottle | 4148-08 | |
| 1 quart spray bottle | 4148-32 | |
Directions:
This product must be used in accordance to the following directions by HVACR professionals only.
Cal-Shield is easy to use. Since it is ready-to-use, no mixing is required and can be sprayed directly onto a cleaned coil.
First, it is necessary to clean finned heating and cooling coils with an approved coil cleaner, such as Nu-Calgon's Cal-Brite, Nu-Brite, Foam-Brite, or Alka-Brite. These cleaners are described as "approved" because they will properly prepare the coil for the application of Cal-Shield.
After a complete cleaning to remove all dirt and grime from the coils, rinse thoroughly with water to remove all cleaner and to stop the cleaning action.
Once cleaned in this manner, simply spray the wet finned coils with Cal-Shield, using a gentle back and forth action similar to that used for spray painting. Note that the coils do not have to be dry in order for Cal-Shield to be applied.
Once applied, Cal-Shield's coating will inhibit or deter the dirt and grime from adhering. Water will actually bead-up and sheet off the treated fins rather than remain with its impurities, as the case with untreated fins, enabling the coil to stay cleaner longer and to operate at design efficiency.
As in the case with handling coil cleaners, always use personal protective equipment such as gloves and goggles.
Product Information:
Literature Downloads
Download the product bulletin and other relevant literature here.
Labels
Download a low resolution file of the product label here.
Product Safety
CAL-SHIELD 4X1 GAL CS

CAL-SHIELD 6X1 QT CS