Cal-Treat No. 233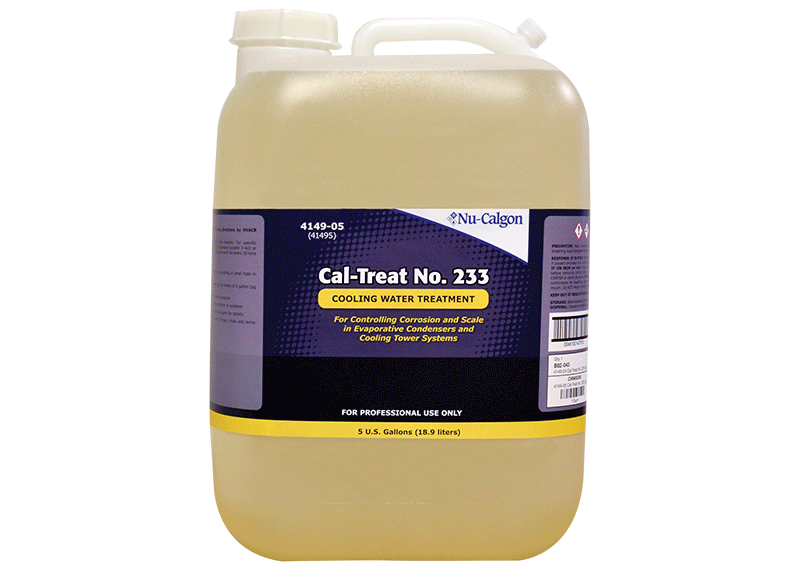 Control corrosion in evaporator condensers and cooling tower systems
Provides superior corrosion control and inhibits scale deposition
Most effective corrosion inhibitor known for cooling water systems
Easy-to-use and feed into equipment

Description:
Cal-Treat 233 is a synergestic formulation of two organic phosphonates, two poly acrylates for silt dispersion, and a combination corrosion inhibitor package consisting of zinc and molybdate inhibitors as well as benzotriazole copper corrosion inhibitor.
Soft, low alkalinity waters are hungry and tend to eat up condensers and piping in water-cooled air conditioning and refrigeration systems. As corrosion products build up, efficiency goes down and maintenance costs go up. Eventually, leaks occur and the equipment has to be shut down. Put a stop to corrosion problems with Cal-Treat 233, the most effective corrosion inhibitor known for cooling water systems.
| Packaging Size | Part Number | Additional Info |
| --- | --- | --- |
| 5 Gallon Pail | 4149-05 | |
Directions:
This product must be used in accordance to the following directions by HVACR professionals only.
As a general rule this treatment should be used where the make-up water has a total alkalinity of below 30 parts per million or where there is definite evidence of corrosion. This information can be obtained from the local water company, or through the use of a Nu-Calgon Test Kit. Treatment residual should be 200-250 ppm for complete corrosion protection. At the same time, bleed off should be 0.25-0.36 gal/hr/ton to keep the cycles of concentration at or below 8.0 to 6.0, respectively, for corrosion waters. Use the K1583 Phosphonate Test Kit to monitor treatment residual.
Product Information:
Literature Downloads
Download the product bulletin and other relevant literature here.
Labels
Download a low resolution file of the product label here.