Drip Feeders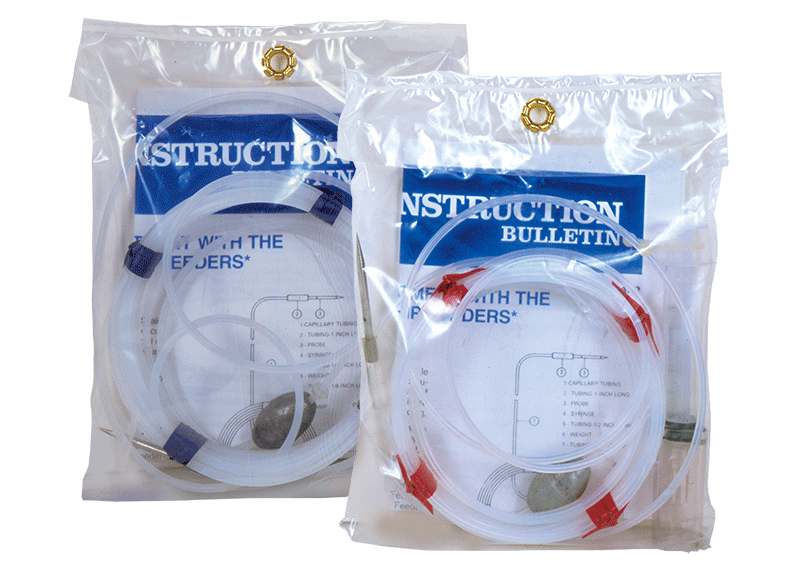 Description:
DISCONTINUED ITEM - MAY BE AVAILABLE AT SELECT WHOLESALERS WHILE SUPPLIES LAST
Nu-Calgon Drip Feeders can be used to feed No. 340 Liquid Scale Inhibitor, Cal-Treat® 233, Ty-Ion® C70 and No. 85 Algaecide to recirculating cooling water systems. The Feeder assembly consists of coiled capillary tubing with a probe, a weight, syringe and a clamp. Each Feeder is calibrated at the factory to assure accurate feeding.
Packaging Size
Part Number
Additional Info
No. 215 Drip Feeder
4669-W3
No. 1075 Drip Feeder
4670-W3
Directions:
The distance that the weighted end of the capillary tubing is allowed to hang below the middle of the treatment bottle determines the feed rate. This distance is referred to as Feeder Head, (H), and should always be measured from the middle of the installed treatment bottle to the end of the capillary tubing.
After the bottle of treatment has been hung at the proper height, the coil of tubing should be placed around the neck of the bottle. Feeders are shipped with "H" set at 40 inches. To establish the proper Feeder Head, as specified in the application charts, simply uncoil the tubing to increase "H" or coil excess tubing to decrease "H".
Never cut the capillary tubing to shorten it; this will destroy the Feeder's calibration and result in too fast a feed rate. The feed rate is different for each product. Charts on product bulletin 3-422 indicate the required Feeder Head versus monthly feed rates for all four Nu-Calgon liquid products. (Download 3-422 by clicking on the "Product Information" tab.)
Product Information:
Literature Downloads
Download the product bulletin and other relevant literature here.
Labels
Download a low resolution file of the product label here.