Humidi-Pro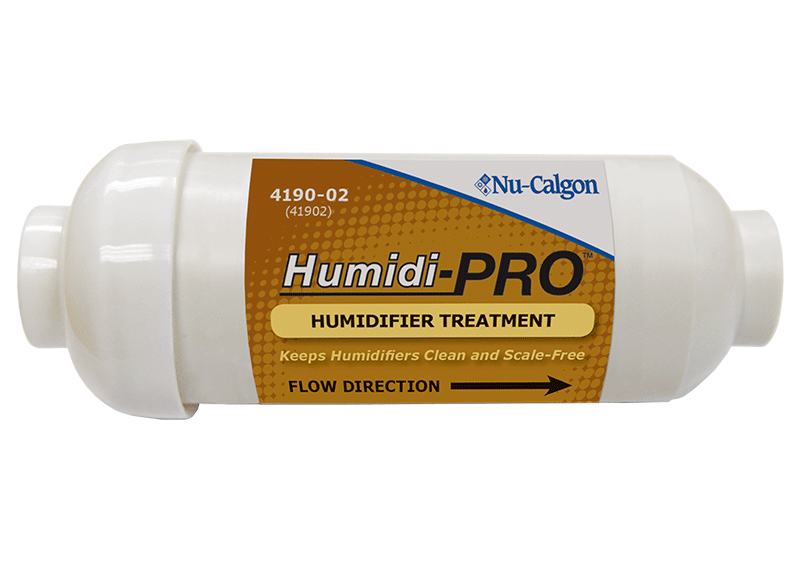 Designed for humidifiers using up to 25 gallons per day
Equipped with 1/4 FPT Threads for easy installation and seasonal change-outs
Can be installed vertically or horizontally
Inhibits scale for one season
Not to be used on hot water lines -- usage temps of 40º-80ºF
Includes two 1/4˝ compression fittings

Description:
Keep humidifiers clean and scale free with Humidi-Pro. Inhibits scale for one season. Install on the water line that supplies water directly to the humidifier. Equipped with compression fittings for easy installation and seasonal change-outs.
Clean pad or install new pad before installing Humidi-Pro.
For best results humidifier should have a daily dump of water from the sump to diminish scale forming minerals.
Install a new Humidi-Pro before each heating season.
Operating temperature, min./ max, 40º - 80º F
| Packaging Size | Part Number | Additional Info |
| --- | --- | --- |
| 1 each | 4190-02 | |
Directions:
Installation Steps
Shut off water.
Disconnect existing filter or cut water line where filter is to be installed.
Install water line directly into the compression fitting at each end of the Humidi-Pro cartridge.
No additional fittings or tools necessary.
Insure proper direction of water flow and connect inlet and outlet.
Carefully turn on the water and check for leaks.
Check the filter after approximately 8 hours for slight leaks not visible during initial installation.
Product Information:
Literature Downloads
Download the product bulletin and other relevant literature here.
Labels
Download a low resolution file of the product label here.