Season Treat (6Rsp Micromet)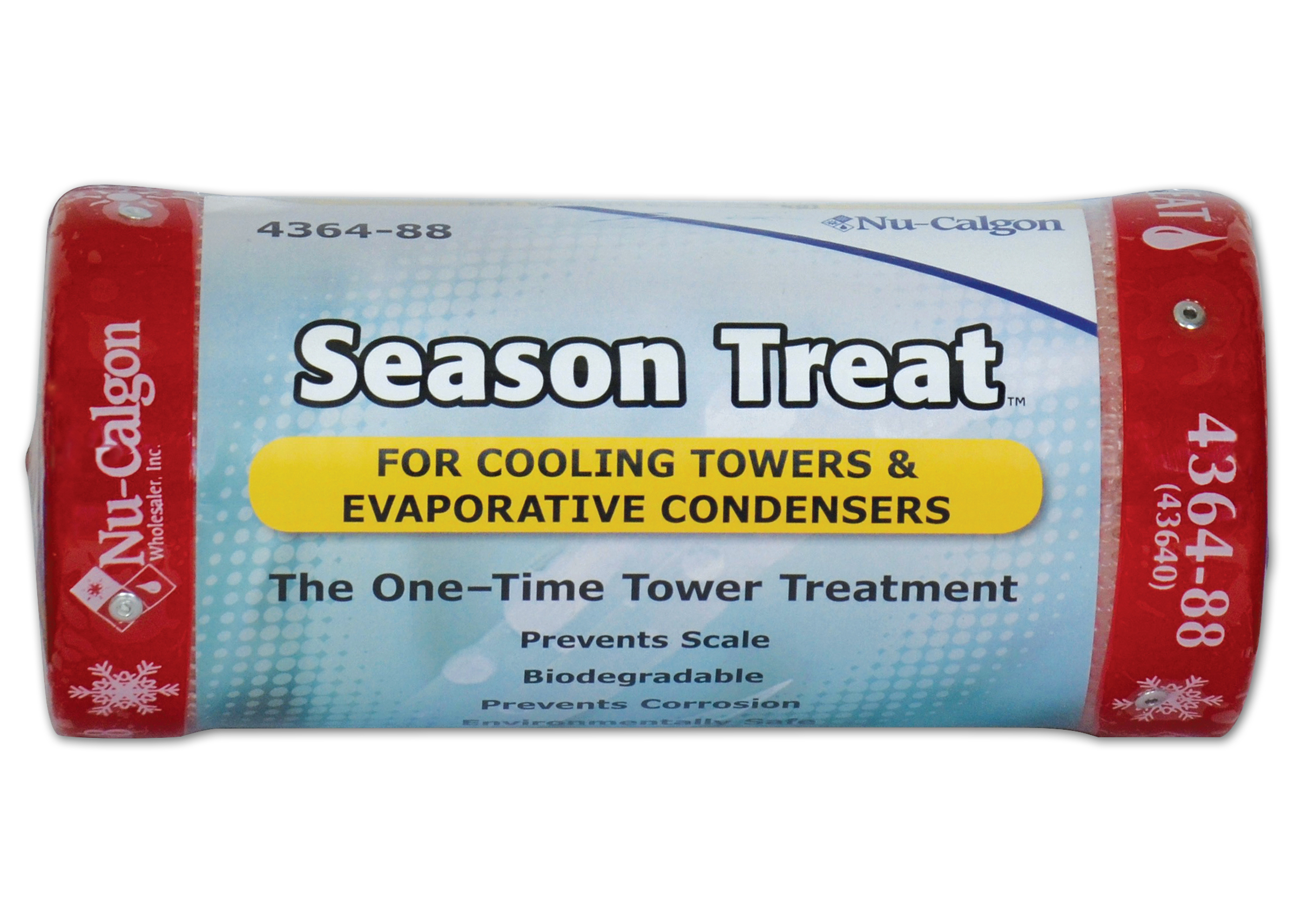 Patented Micromet® Plate Product
Prevents scale and corrosion
Environmentally Safe
One charge lasts one season (6 months)
Biodegradable
Easy-to-use… one container treats 10 tons of cooling capacity (for corrosion, use one container per 5 tons)

Description:
Season Treat inhibits scale formation by holding the scale-forming minerals in solution long enough to be carried away through the bleed-off. It also forms a microscopic, thin protective film on metal surfaces to reduce corrosion. Because of 6Rsp Micromet's consistent slow dissolve rate, it achieves a uniform concentration of treatment over a long period of time. When the product is about 2/3 dissolved, which should be in about 6 months of operation with average water temperatures, discard the remaining canister or charge of 6Rsp Micromet and add a new charge.
A Season Treat canister will last about six months in 75°F water.
| Packaging Size | Part Number | Additional Info |
| --- | --- | --- |
| 5 lb. Canister | 4364-88 | |
Directions:
This product must be used in accordance to the following directions by HVACR professionals only.
Start with a clean system
Drain water from sump and flush out the dirt, slime or sediment. If there is old scale present, remove it with Imperial Scale Remover (Season Start), Liquid Scale Dissolver or Eco-Lyme.
Amount required
For most scale-forming waters use one canister of Season Treat per 10 ton of refrigeration capacity. The canister should be placed in an area where there is good flow of water. If using Plates in Feeding Bags, the bags should be hung above the sump water level so they will be wet when the system is operating and will drain dry when the system is not operating.
For corrosion control, use one canister of Season Treat per 5 ton of refrigeration capacity, or 1 lb. of 6R Micromet per ton.
Bleed-off
A proper bleed-off is absolutely essential. Without a bleed-off the mineral salts in the recirculating water can concentrate so much that no chemical treatment will hold them in solution.
A bleed-off of 1.0 to 2.0 (depending upon make-up water conditions) gallons per hour per ton is recommended for most scale-forming waters. For waters that tend to be corrosive rather than scale-forming a bleed-off of 0.5 gallon per hour per ton is recommended.
Product Information:
Literature Downloads
Download the product bulletin and other relevant literature here.
Labels
Download a low resolution file of the product label here.