Cal-Blue LT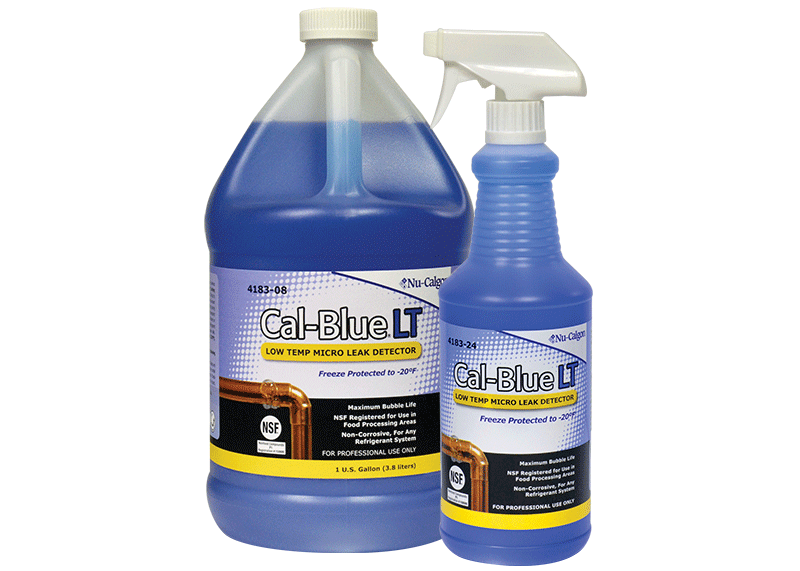 High viscosity formulation to enhance contact time
Long-lasting bubbles
Non-corrosive to metals
Will not affect ultraviolet (black) lights
Suitable for all refrigerants, natural gas, and oxygen

Description:
One of the most important tasks of today's technician is refrigerant management, and specifically leak detection. For this job, the technician requires a quality, effective leak detector, and Cal-Blue LT meets that need. Cal-Blue LT has outstanding freeze-protection down to -20ºF (and up to 225ºF).
Cal-Blue products are the complete gas leak detector. Not only do they detect the smallest leak, they also provides other significant benefits. The high viscosity formula provides long lasting bubbles, and enables the product to remain in contact with the applied surface for an extended period of time, thereby allowing the smallest of leaks to be detected. It is also non-corrosive to metal, and this is a significant feature as it helps to maintain the integrity of piping, tubing and fittings.
| Packaging Size | Part Number | Additional Info |
| --- | --- | --- |
| 1 gallon bottle | 4183-08 | |
| 55 gallon drum | 4183-01 | |
| 1 quart spray bottle | 4183-24 | |
Directions:
This product must be used in accordance to the following directions by HVACR professionals only.
Spray liberally around joint in gas line. If joint leaks, bubbles will form in a few seconds. If using sprayer, twist tip to off position when not in use.
Product Information:
Literature Downloads
Download the product bulletin and other relevant literature here.
Labels
Download a low resolution file of the product label here.
Product Safety
CAL-BLUE LT, GAS LEAK DET 4X1 GAL CS

CAL-BLUE LT, GAS LEAK DET 6X1 QT CS