No. 31-TX1 Acid Pump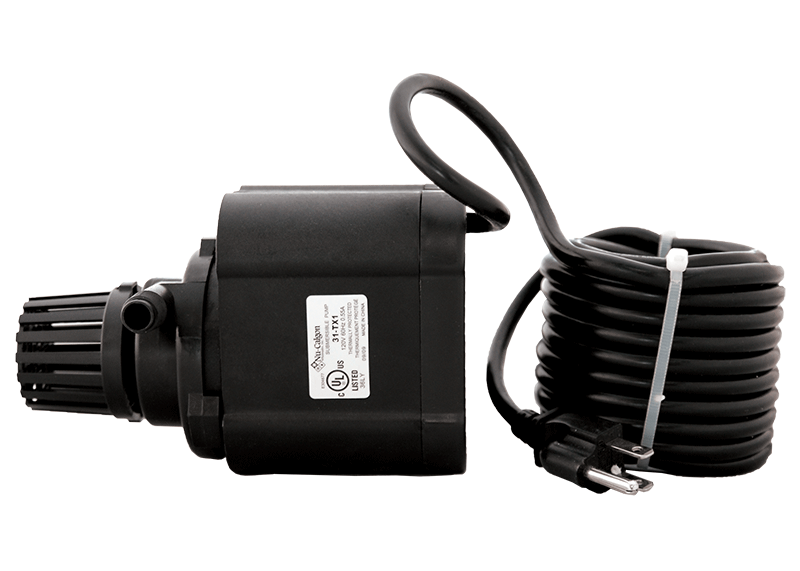 Light Weight and Easy-to-carry tool
All parts made of acid-resistant materials
Double seals on shaft
Completely submersible
Description:
Specially designed for circulating hydrochloric acid or strong sulfamic acid cleaning solutions through scaled water-cooled condensers, heat exchangers, water heater coils, water lines and other water handling equipment. Can also be used for agitating or mixing chemical solutions.
Motor Specifications
1/50 H.P.
120 volt, 60 cycle
0.55 amps, 42 watts
Temperature limit 130ºF
16 ft. cord
Packaging Size
Part Number
Additional Info
1 each
4603-0
Directions:
Any strong solution will remove old scale and corrosion products. As a result, if the system is old or badly corroded, leaks may occur.
Do not pump highly abrasive solutions.
Do not run pump dry. The pump MUST BE COMPLETELY SUBMERGED when operating to prevent overheating and motor burn-out. During operation the ball valve must be in the open position. Also, to utilize the Nu-Calgon hose kit, attach the included adapter to the pump outlet.
This pump is not suitable for continuous operation and must not be left standing in acid solutions when not in use.
The upper temperature limit of the No. 31-TX1 Acid Pump is 130ºF. Since the acid solution temperature will rise during the cleaning process it is possible that the pump temperature may exceed this limit. To prevent motor burn-out due to overheating a built-in thermal overload switch has been installed to shut off the pump automatically when the temperature limit is reached. Pump operation will not resume until the pump temperature is reduced to below 130ºF.
Drain pump and flush out with fresh water after each use.
Product Information:
Literature Downloads
Download the product bulletin and other relevant literature here.
Labels
Download a low resolution file of the product label here.