Liquid Scale Dissolver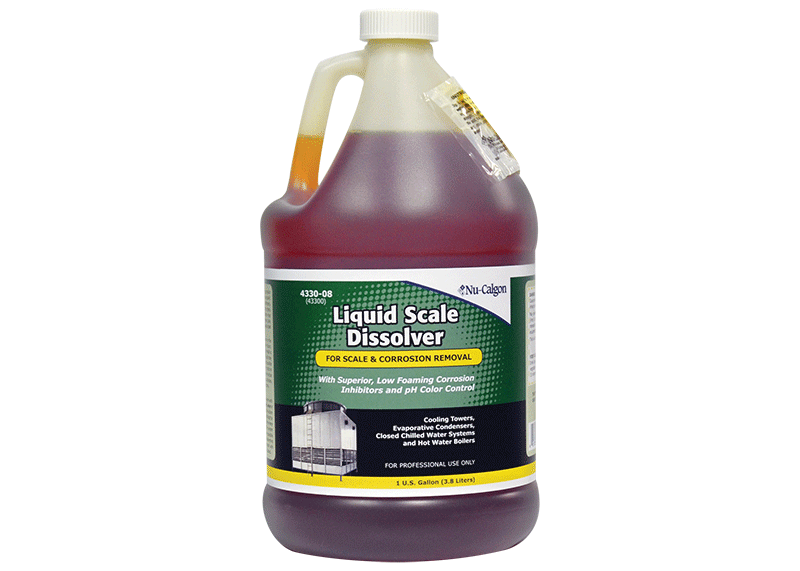 Liquid hydrochloric acid
Strong and fast… dissolves iron oxide as well as scale
Contains low-foaming corrosion inhibitors
Built-in pH color indicator
Description:
Liquid Scale Dissolver line-up is the industry's most trusted solution for descaling and cleaning cooling tower. It provides unmatched features such as a built-in pH color indicator, superior low foam characteristics in a fast-action cleaner.
The built-in pH color indicator is a good guide to the proper application of the product. It gives the water a green or light blue color with the product at the desired strength and causes the water to turn dark blue or purple when the product is neutralized thus, no scale is being dissolved at this time. When this occurs add more product to change the water back to a light blue or green.
Low foaming corrosion inhibitor provides protection of system metal during descaling. The low foam characteristics provide safety to the technician.
Packaging Size
Part Number
Additional Info
1 Gallon Bottle
4330-08
5 Gallon Pail
4330-05
55 Gallon Drum
4330-01
3.78 liter bottle (Canada)
4845-K8
Directions:
This product must be used in accordance to the following directions by HVACR professionals only.
Drain water from system and flush system to remove loose scale and sludge. Fill system with fresh water adding one gallon of Liquid Scale Dissolver for every 20 gallons of water in the system. Vent enclosure(s) to prevent the build-up of pressure. Allow the cleaner to circulate until all the scale is removed. If the cleaner turns blue or purple, the solution has been neutralized and another treatment or more of cleaner is required. For convenience, pH strips are also supplied with each product.
The system is free of scale when the solution retains a green color for 15-30 minutes. Most cleanings can be accomplished within two to four hours. After cleaning, thoroughly rinse with flowing water making sure all residuals of the cleaner have been flushed. Consult Nu-Calgon publications 3-106 and 3-918 for additional instructions and precautions before the use of the product.
Product Information:
Literature Downloads
Download the product bulletin and other relevant literature here.
Labels
Download a low resolution file of the product label here.
Product Safety
SCALE DISSOLVER, LIQUID 4X1 GAL CS

SCALE DISSOLVER, LIQUID 5 GAL PAIL

SCALE DISSOLVER, LIQUID 55 GALLON DRUM
RTK Information
SCALE DISSOLVER, LIQUID 4X1 GAL CS