System Cleaner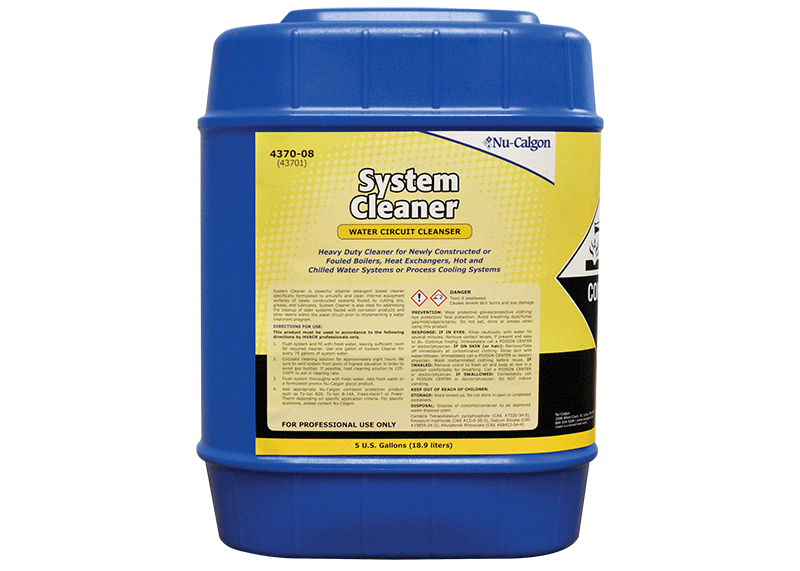 Balanced formulation provides proper alkalinity, buffering agents and cleaners
Ideal cleaner for new or existing systems: boilers, heat exchangers, hot and chilled water systems
Easy-to-use liquid
System Cleaner can be used as an acid neutralizer after a descaling in non-potable water applications


Description:
A heavy-duty liquid cleaner specifically formulated to emulsify and clean equipment surfaces fouled by cutting oils, grease, lubricants, corrosion products and other debris.
With newly constructed boilers, heat exchangers, hot and chilled water systems, or process cooling systems, lubricants and internal debris must be removed before startup. In addition, older equipment and systems can become fouled with corrosion products and will require cleaning. System Cleaner is a powerful alkaline detergent specially formulated to penetrate and remove oils, grease, and other types of dirt and corrosion products. In addition to removing lubricants and dirt before startup of new systems, System Cleaner fully preps metal surfaces for effective corrosion control by inhibitors utilized in products such as Ty-Ion B20, Freez-Kontr'l or Freez-Therm and others.
Packaging Size
Part Number
Additional Info
5 gallon pail
4370-08
Directions:
This product must be used in accordance to the following directions by HVACR professionals only.
Flush system and fill with fresh water, leaving sufficient room for required cleaner.
a) Use 1 gallon of product for every 75 gallons of system water.
Circulate cleaning solution for approximately 8 hours. Be sure to:
a) Vent system from point of highest elevation in order to avoid gas binding.
b) If possible, heat cleaning solution to 120 - 130ºF.
Flush system continually until flush water runs clear. Add fresh water.
Add recommended corrosion protection product (i.e. Ty-Ion® B20, Freez-Kontr'l®, etc.)
Product Information:
Literature Downloads
Download the product bulletin and other relevant literature here.
Labels
Download a low resolution file of the product label here.
Product Safety
SYSTEM CLEANER 5 GALLON PAIL-LIQUID