Ty-Ion B14A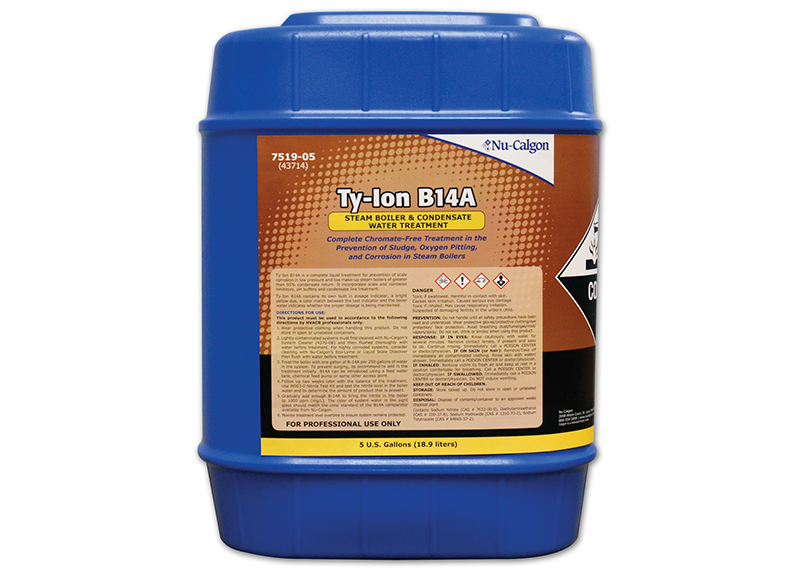 Complete one product treatment for the prevention of sludge, oxygen pitting, corrosion and condensate corrosion
No special mixing or tanks required; can be used straight from the drum
Built-in color indicator provides for easy on-going, visual determination of the product treatment level in system, without chemical testing
Description:
Ty-Ion B14A is a one product boiler treatment that controls boiler scale and corrosion and condensate line corrosion in low pressure steam heating boilers where most of the condensate is returned. Ty-Ion B14A is chromate-free and it contains a color indicator for visual determination of treatment residual. It's balanced formulation provides an energy efficient operation of the heating plant.
Ty-Ion B14A is formulated as a simple easy-to-use "single-drum" boiler product. It was developed specifically for low pressure steam boilers having low makeup and a very high percent of condensate return. Such boilers are usually used for heating and are found in schools, small hospitals, nursing homes and other commercial or industrial locations.
Packaging Size
Part Number
Additional Info
5 gallon pail
7519-05
Directions:
This product must be used in accordance to the following directions by HVACR professionals only.
For proper treatment, it is necessary to initially charge the boiler with one gallon of Ty-Ion B14A for every 250 gallons of water in the system. However, to avoid the potential for surging when filling the boiler, add 1/2 gallon (in the case of cast iron boilers, use 1/4 gallon) for each 250 gallons of water. If the capacity is unknown, refer to the BTU/Capacity chart below for an estimation or calculate the volume of water. Allow boiler to operate two weeks to one month before adding balance of the product. Use W003-0 Nitrite Test Kit and test the nitrite (NaNO2) level in the boiler water to determine the amount of product that is present. Gradually add enough product to bring the ppm(mg/L) of nitrite in the boiler to 1000. At this point, the color of the system water in the sight glass should match the color standard of the B14A Comparator available from Nu-Calgon Wholesaler, Inc. Please note that additions of the product to reach 1000 ppm should be done over a period of several weeks to avoid possible surging.
Product Information:
Literature Downloads
Download the product bulletin and other relevant literature here.
Labels
Download a low resolution file of the product label here.