Ty-Ion B20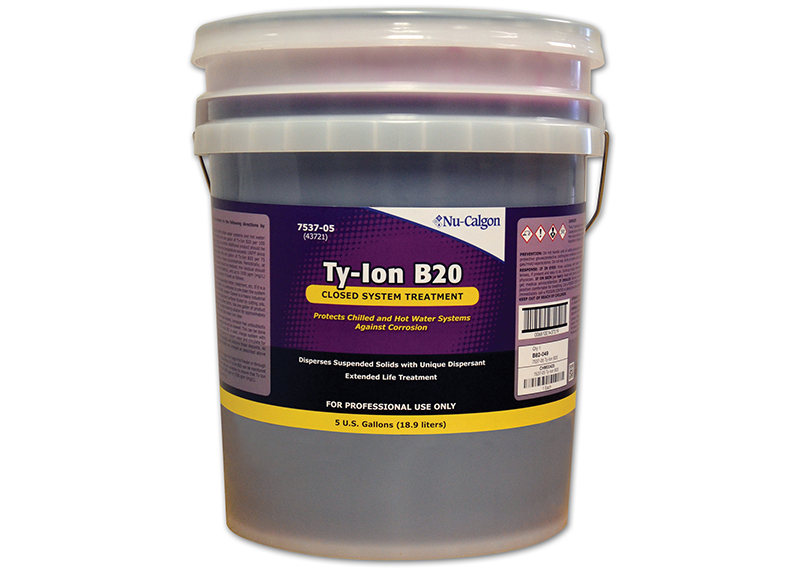 Inhibits corrosion and helps prevent corrosion deposits in multi-metal systems
Chromate-free for longer life of mechanical seals and easier disposal
Effective at both high and low operating temperatures
Helps disperse suspended solids with a unique copolymer dispersant
Description:
Ty-Ion B20 is a liquid nitrite-borax corrosion inhibitor and dispersant for closed recirculating systems. It combines corrosion inhibitors, including a copper corrosion inhibitor, a unique copolymer dispersant, and a color indicator into a complete treatment for both hot and chilled water closed systems containing ferrous and nonferrous metal components. The color indicator facilitates leak detection and proper treatment residuals.
Ty-Ion B20 controls corrosion by producing a protective passivating film on all exposed metal surfaces through a synergistic combination of sodium nitrite and borax, plus organic inhibitors. In addition, its copolymer dispersant inhibits deposit formation through its dispersing capability.
The unique color indicator in Ty-Ion B20 is extremely useful in locating any existing leaks in closed systems, to quickly determine if the systems are properly treated and also to determine if the pH has dropped in the system because of bacterial infestation.
Packaging Size
Part Number
Additional Info
5 gallon pail
7537-05
Directions:
This product must be used in accordance to the following directions by HVACR professionals only.
For best results, it is recommended that both chilled water systems and hot water heating systems be charged with one gallon of Ty-Ion B20 per 100 gallons of system water, or 1000 ppm (mg/L) as nitrite. Additional product should be considered for closed hot water systems as they can be more prone to corrosive attack. As much as 1 gallon per 75 gallons water of Ty-Ion B20 should be considered, particularly where the temperature exceeds 185°F. Periodically, at least once per month, the treatment residual should be checked; the residual should always be at least 1000 ppm (mg/L) as nitrite (NaNO2), and up to 1500 ppm (mg/L) in hot water systems where more B20 is required. Proceed as follows:
Drain and flush the system to remove all suspended matter, treatment, etc. If it is a new system, or even in an existing system, it is preferable to pre-clean the system with System Cleaner (Part Number 4370-08). System Cleaner is a heavy industrial cleaner specifically formulated to clean equipment surfaces fouled by cutting oils, grease, lubricants, corrosion products and other debris. Use 1 gallon of product for every 75 gallons of system water. Circulate cleaning solution for approximately 8 hours then flush system continually until flush water runs clear.
If the system is not new and has never been treated, corrosion has undoubtedly taken place and resulting corrosion products should be cleaned. This can be done with Ty-Ion B20 or System Cleaner. If Ty-Ion B20 is used, charge system with 2-3 gallons of Ty- Ion B20 for every 100 gallons of system water and circulate for several weeks. This additional B20 will emulsify and dissolve those deposits. At that time, the system can be drained, flushed and charged with 1 gallon of B20 for every 100 gallons of water.
Access the system and add the required amount of Ty-Ion B20. If necessary, install a 20L Feeder (Part Number 4628-0) to introduce the chemical into the system.
Nitrite levels should be kept at a minimum of 1000 ppm in chilled water systems and at a minimum of 1500 ppm in hot water boiler systems. Concentrations of Ty-Ion B20 can be monitored by utilizing the Nitrite Drop Test that Nu-Calgon provides in the following test kits:
Nitrite Test Kit (Part Number 4797-0)
No. 89A Test Kit (Part Number 4798-2)
Complete Test Kit (Part Number W017-0)
Product Information:
Literature Downloads
Download the product bulletin and other relevant literature here.
Labels
Download a low resolution file of the product label here.