Calci-Solve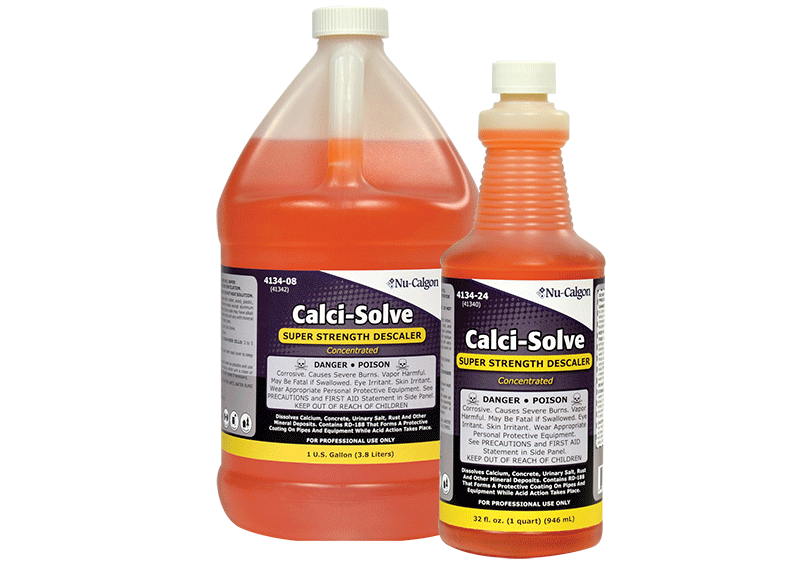 Removes clogs from pipes and drains
Gets rid of offensive odors in drains
Economical and easy to use
Will not harm lines or drain pipes
Safe on septic systems
Can be used on hot water heaters, boilers, steam equipment and more
Description:
Remove scale from lines and clear clogged drains easily and effectively with Calci-Solve. The product includes a special inhibitor that coats the inside of the pipes with a protective film, allowing the acid in Calci-Solve to quickly dissolve calcium, magnesium, sodium, lime, rust and other such elements without harming pipes.
Use Calci-Solve to remove scale and rust from the following:
Pasteurizers and Tanks
Boilers
Water Cooled Condensers
Water Piping
Water Pumps
Hot Water Coils
Hot Water Heaters
Electric Heater
Water Meters, Valves, and Steam Equipment
Unit Heaters
Packaging Size
Part Number
Additional Info
55 gallon drum
4134-01
1 gallon bottle
4134-08
1 quart bottle
4134-24
Directions:
This product must be used in accordance to the following directions by HVACR professionals only.
HOT WATER COILS: Attach a stand pipe and pour a solution of 2 parts water and 1 part Calci-Solve. If coil is completely stopped use Calci-Solve full strength.
HOT WATER HEATERS: GAS TYPE. Break at unions leading in and out of heater. Drain water. Use solution of 2 to 5 parts water and pour in enough solution to cover bottom of heater to a depth of one foot. Flush thoroughly before returning to use.
ELECTRIC HEATER: Cover coils with a solution of 5 parts water and one part Calci-Solve.
BOILERS: 10 to 15 parts water and 1 part Calci-Solve. Allow to work for at least 12 hours. Extra flushing may be required to remove loose sediment left on bottom.
WATER METERS, VALVES AND STEAM EQUIPMENT: Submerge parts to be cleaned in solution of 2 to 5 parts water, 1 part of Calci-Solve.
UNIT HEATERS: Fill steam or water coils with solution of 2 parts water, 1 part Calci-Solve. If circulating pump is used, use 5 parts water, 1 part Calci-Solve.
Product Information:
Literature Downloads
Download the product bulletin and other relevant literature here.
Labels
Download a low resolution file of the product label here.
Product Safety
CALCI-SOLVE, 55 GAL DRUM

CALCI-SOLVE, 12X1 QT CS

CALCI-SOLVE, 4X1 GAL CS