Urinakleen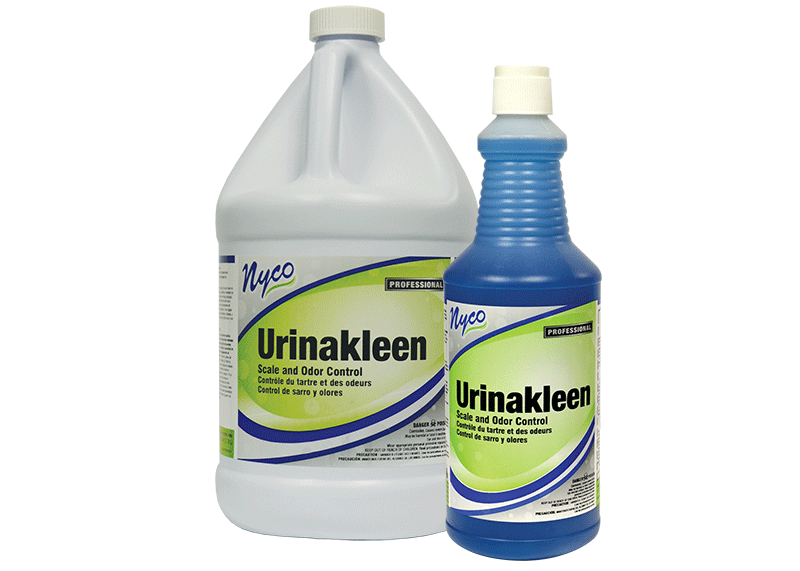 Attacks primary source of odors
Safe on septic systems
Dissolves urinary salts, mineral scale and rust deposits
Keeps urinals free flowing
Description:
Urinakleen is an acid-based bowl cleaner that removes scale deposits and odors. It is also ideal for dissolving rust, urinary salts and mineral scale from flush tanks, urinal drains and bowls. Monthly application of Urinakleen will effectively keep urinals free flowing and reduce the need for excessive odor control products.
Packaging Size
Part Number
Additional Info
1 gallon bottle
4590-08
1 quart bottle
4590-24
Directions:
This product must be used in accordance to the following directions by HVACR professionals only.
Remove waste debris, urinal screens and urinal blocks. Shut off automatic flush and remove as much standing water as possible. Pour 16 oz. into urinal and allow it to work for 10-15 minutes while acid action takes place. Clean bowl with bowl swab wet with Urinakleen. Flush urinal several times and repeat process if urinal is completely clogged or very slow to drain.
Product Information:
Literature Downloads
Download the product bulletin and other relevant literature here.
Labels
Download a low resolution file of the product label here.
Product Safety
URINAKLEEN, 12X1 QT CS

URINAKLEEN, 4X1 GAL CS