Aprilaire & Spacegard Filters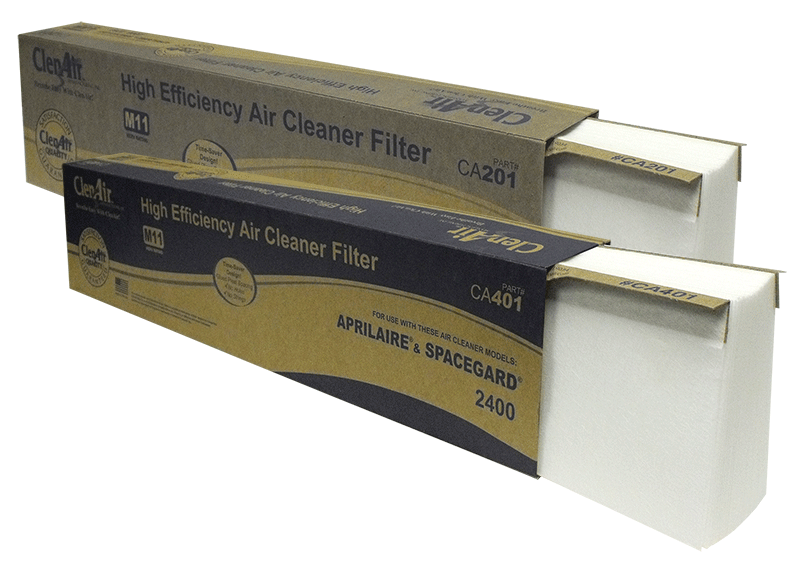 Description:
These Merv 11 filter media are direct replacement for the Aprilaire Spacegard 201 and 401. The new string-less, glued pleat spacing design makes for an easier and faster installation. These replacement filters can be used in the hundreds of thousands of installed Spacegard filters across the U.S., and compact package and repeat business make them a contractor favorite.
| Packaging Size | Part Number | Additional Info |
| --- | --- | --- |
| Use with Aprilaire & Spacegard 2400 | 61257 | CA401 |
| Use with Aprilaire & Spacegard 2200 & 2250 | 61256 | CA201 |
Directions:
NOTE: Do not pull apart filter at the glued spots. Glue is designed to ease installation.
Turn off blower and remove cover from air cleaner cabinets. Slide filter frame assembly out from cabinet and place on floor with black pleat spacers up.
Carefully remove the black pleat spacers. Unbutton the latches on the side of the frame and swing open the two end panels. Unfasten two hinged flaps on the top of the frame that hold filter in place. Remove old filter media and discard. NOTE: Do not handle insulation along sides of frame.
Place new filter in frame, cardboard flaps up. Insert the cardboard filter flaps into the notched channels on each side of the frame. Make sure the filter is centered in the frame, and pinch closed the hinged flaps.
Insert the black pleat spacers, one pleat per slot, and slide over to the proper position. Snap into notches in side channels. Be careful not to tear filter near glue beads. NOTE: Glue beads are for easier installation. These time-saver filters were created to automatically separate the pleats to the proper width without the use of strings or holes in the filter.
Close end panels on frame and snap latches closed at each corner. Reinstall the filter media frame in the cabinet with the airflow arrow in the same direction as the arrow on the cabinet. Attach outer cover and turn blower on.
Product Information:
Literature Downloads
Download the product bulletin and other relevant literature here.
Labels
Download a low resolution file of the product label here.