Universal Humidifier Panel Filters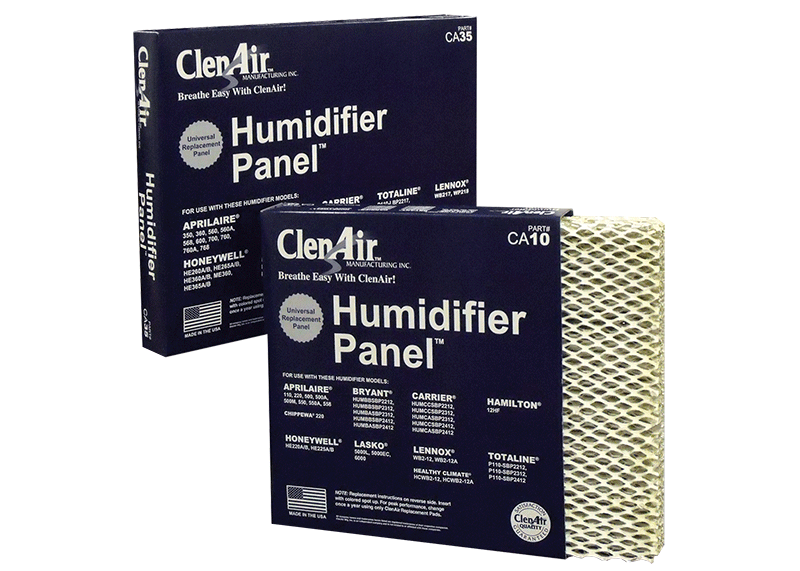 Provides optimum moisture output, performance, and durability
Replaces Aprilaire, Honeywell, Carrier, Bryant, Lennox, ICP, and others
Made from quality materials in the USA
Description:
ClenAir Universal Humidifier Panels provide optimum moisture output, performance, and durability. They replace Aprilaire, Honeywell, Carrier, Bryant, Lennox, ICP, and others. Made from quality materials in the USA.
| Packaging Size | Part Number | Additional Info |
| --- | --- | --- |
| 24 Volt Solenoid Valve Assembly | 61253 | CA4040 |
| #10 Size | 61250 | CA10 |
| #35 Size | 61252 | CA35 |
Directions:
Turn off and disconnect electric and water supply.
Remove and discard old humidifier panel and clean any lime deposits left in humidifier.
Replace with your new humidifier panel.
IMPORTANT: If marking is on panel, it must be up!
Reassemble unit and reconnect water and electric.
For best performance, change at least twice per season, maybe more depending on water conditions and frequency of use.
For a list of humidifier models and panels that the ClenAir Universal Humidifier Panels can be used to replace, click on the "Product Information" tab and download product bulletin.
Product Information:
Literature Downloads
Download the product bulletin and other relevant literature here.
Labels
Download a low resolution file of the product label here.