AquaCare T65 Demineralization Cartridge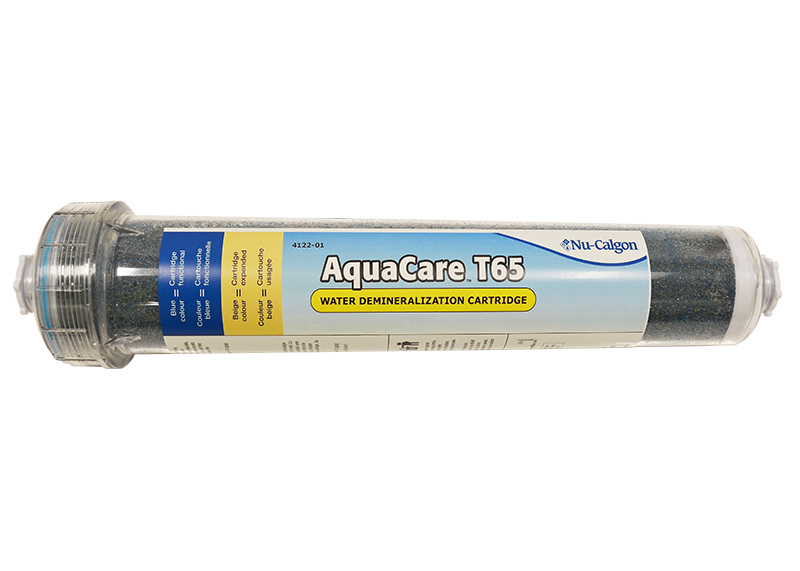 For use with fill water when diluting glycol or other hydronic treatment
Economical and convenient option to pre-blended glycol formulas
Removes chloride, sulphate and nitrite ions which attack system metals
Removes scale forming ions that damage components and block heat transfer
Lowers water conductivity which reduces internal corrosion
Media changes from blue to beige when spent
Billable and disposable cartridge for the job
Description:
The AquaCare T65 Demineralization Cartridge is for fill water requirements for diluting glycol and other closed loop system chemical treatments for the HVAC/R market. The disposable and billable cartridge used at the jobsite improves fill water quality to meet OEM requirements and improve glycol longevity by removing unwanted minerals from the water that affect its service life.
The AquaCare T65 uses a robust, translucent housing equipped with 3/4" female garden hose thread connections to hook directly to an incoming faucet and garden hose for system fill. The two-component mixed bed resin provides reliable, full demineralization that removes scale and corrosion forming ions from the water. When the entire resin has changed from blue to beige, the cartridge is spent.
Packaging Size
Part Number
Additional Info
AquaCare Cartridge, 1 each
4122-01
Directions:
1.  Remove the AquaCare T65 Demineralization Cartridge from its original packaging,  remove threaded plastic caps.
2.  Hook the cartridge to incoming water supply to be used for fill water for the glycol dilution in the closed loop system.   The fittings on the cartridge are 3/4 inch garden hose threads.  Hook the outlet end of the cartridge to a standard garden hose to be used for filling the closed loop system. 
3. Make sure the water flow rate is at 1.3 GPM or less,  which is the maximum water flow rate to run through the cartridge.    Observe the pressure and water temperature ratings on the cartridge - never exceed these values.
4. The resin media changes from blue to beige as the resin is consumed.   When the resin changes completely from blue to beige the cartridge is completely spent and needs to be properly discarded at the jobsite.  The capacity of the cartridge depending on incoming water quality.  The cartridge has a nominal capacity of 65 gallons at 200 ppm (12 gpg) TDS.  
Note:  If the hardness of the water is known at a location,  there is an accompanying capacity graph with the cartridge that plots volume of demineralized water vs. incoming water TDS.  With this graph,  the user will know how much water the cartridge will treat at a jobsite.
The AquaCare T65 Demineralization Cartridge can be recapped and further used for a job if the resin is not fully spent or turned completely beige.  
Product Information:
Literature Downloads
Download the product bulletin and other relevant literature here.
Labels
Download a low resolution file of the product label here.