Oxidice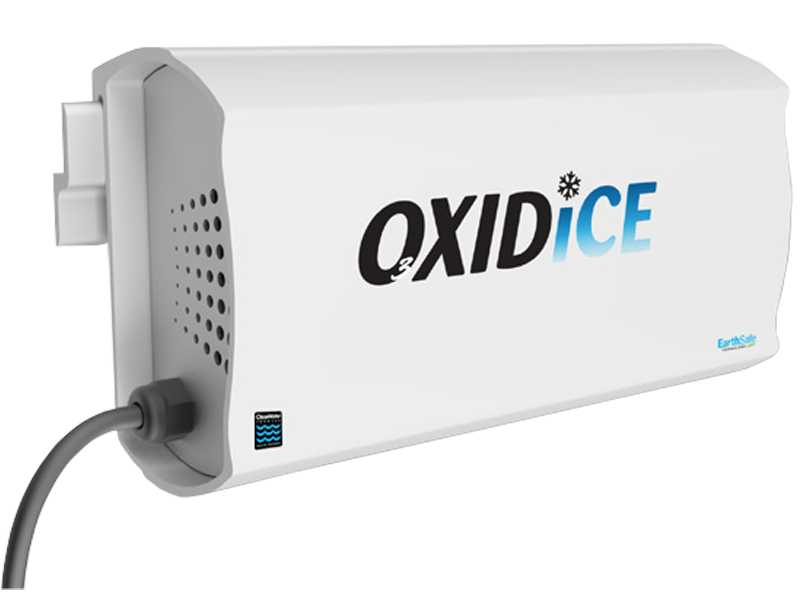 Reduces ice machine maintenance visits
Fits any size machine
Fast and simple installation
Programmable for varying situations
Treats both the water and the bin
No chemicals - nothing to fill or recharge
Only byproduct is oxygen
Description:
Oxidice is an energy-efficient disinfection system that treats the ice machine's incoming water supply. It reduces the growth of bacteria, molds, yeast and other contaminants by disinfecting the air, water, and surfaces within the machine. Oxidice provides a natural sanitizer that extends the time between maintenance and cleaning, while creating a positive customer experience.
Packaging Size
Part Number
Additional Info
1 Each
CD385A
Directions:
Cleaning Ice Maker
Clean and sanitize your ice machine using Nickel-Safe Ice Machine Cleaner, and IMS3 sanitizer.
Unpacking
Make sure all components are in the box before the installation process. In addition to this manual, you should have (1) Oxidice unit, (1) z-bar mount, (1) 10 ft tube, (1) rubber grommet, and (1) diffuser.
Find a mounting location before beginning the installation; locate a suitable location for the Oxidice unit. Find a flat portion of a wall close to the ice maker. The unit may also be placed on a flat, level surface. Please consider the following when selecting a mounting location:
Never install the unit in an area where water may freeze. Freezing water will damage the internal components.
Mount horizontally. Do not mount vertically or at an angle. Always use a level when installing this unit.
The unit should be close enough to a power outlet so an extension cord is not necessary.
Mount the unit no further than 10 feet from the point of use, and above the entry point of the ozone line into the ice maker.
Mounting the Unit
Use the appropriate tools and mounting hardware (not provided) for existing wall's construction and install the z-bar. Use a level to make sure it is horizontal.
Place the unit onto the z-bar.
Connecting the Diffuser
Drill (1) 9/16-inch hole into the ice maker close to and above the water reservoir. Install grommet provided into hole.
Attach one end of the supplied tubing to the ozone outlet of the unit.
Run tubing through grommet installed in the ice maker. Attach the opposite end of the tubing to the barbed fitting of the diffuser provided, and then place the diffuser into the water reservoir.
Product Information:
Literature Downloads
Download the product bulletin and other relevant literature here.
Labels
Download a low resolution file of the product label here.