ClenAir Liquid Formula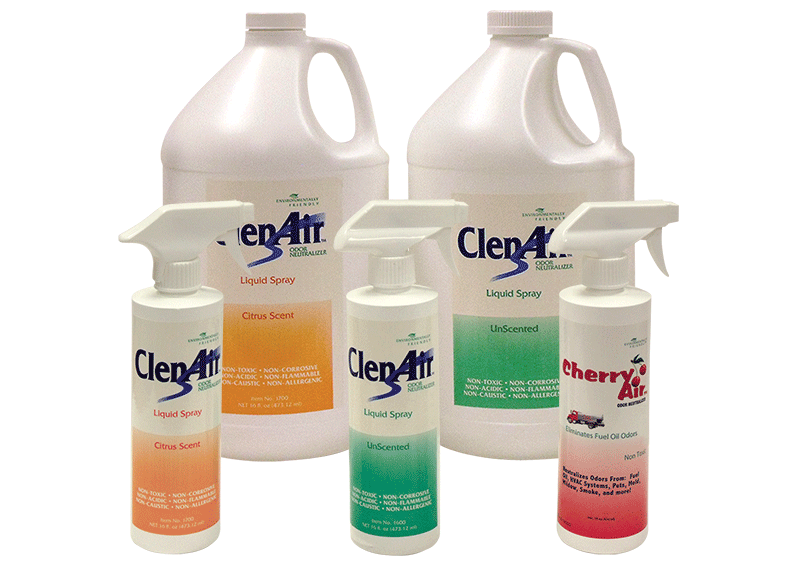 Eliminates odors caused by smoke, mold, mildew, stale air, sewer gas, pets, and more
Works great with heating ventilation and air conditioning systems
Available in Unscented, Citrus, and CherryAir
Description:
ClenAir Liquid Formulas are a fast-acting deodorizing system. Unlike regular deodorizers that simply use heavy perfumes and oils to disguise odors, ClenAir eliminates odors via an oxidation process while leaving a fresh scent. ClenAir is also biodegradable, non-toxic, non-staining, and approved for usage in homes and businesses.
Air Conditioner: For central air systems, spray into intake vents while fan is running. Spray onto evaporator coil and into ductwork and condensate pan.
Plumbing: Pour ClenAir down seldom used drains to keep rooms fresh smelling. Use after leaks and back-ups.
Mildew/Musty Rooms: Add 4 oz. of ClenAir to a gallon of water. Use to wipe off excess mildew. Then, spray all areas and allow to dry.
Restrooms/Locker Rooms: Spray around toilet, sink, showers, and lockers to keep rooms fresh. Spray directly on equipment and pads and wipe dry.
Urine: Remove as much urine as possible with soap and water. Saturate carpet, bedding, or source of odor with ClenAir. Use towel to soak up excess liquid and allow area to dry.
| Packaging Size | Part Number | Additional Info |
| --- | --- | --- |
| Citrus Liquid 1 gallon | 61035 | 1710 |
| Citrus Spray 16 ounce | 61033 | 1700D |
| Unscented Spray 16 ounce | 61030 | 1600D |
| CherryAir Liquid 1 gallon | 61038 | 1910 |
| Unscented Liquid 1 Gallon | 61031 | 1610 |
| CherryAir Spray 16 ounce | 61037 | 1900D |
Directions:
This product must be used in accordance to the following directions by HVACR professionals only.
Spray and wipe down surfaces after cleaning to remove odors caused by urine, feces, smoke, pets, formaldehyde, mold, mildew and more. Use ClenAir in vehicles, kennels, storage lockers, smoking areas, and in garbage areas. Use ClenAir Liquid Formula in conjunction with ClenAir Gel to maintain an odor-free environment.
Product Information:
Literature Downloads
Download the product bulletin and other relevant literature here.
Labels
Download a low resolution file of the product label here.
Product Safety
1710 - CLENAIR LIQUID CITRUS LIQUID 4 IN CASE

1700D - CLENAIR LIQUID CITRUS SPRAY 12 IN CASE

1600D - CLENAIR LIQUID UNSCENTED SPRAY 12 IN CASE

1910 - CLENAIR LIQUID CHERRYAIR LIQUID 4 IN CASE

1610 - CLENAIR LIQUID UNSCENTED LIQUID 4 IN CASE

1900D - CLENAIR LIQUID CHERRYAIR SPRAY 12 IN CASE
RTK Information
1710 - CLENAIR LIQUID CITRUS LIQUID 4 IN CASE

1700D - CLENAIR LIQUID CITRUS SPRAY 12 IN CASE

1600D - CLENAIR LIQUID UNSCENTED SPRAY 12 IN CASE

1910 - CLENAIR LIQUID CHERRYAIR LIQUID 4 IN CASE

1610 - CLENAIR LIQUID UNSCENTED LIQUID 4 IN CASE

1900D - CLENAIR LIQUID CHERRYAIR SPRAY 12 IN CASE