PurTabs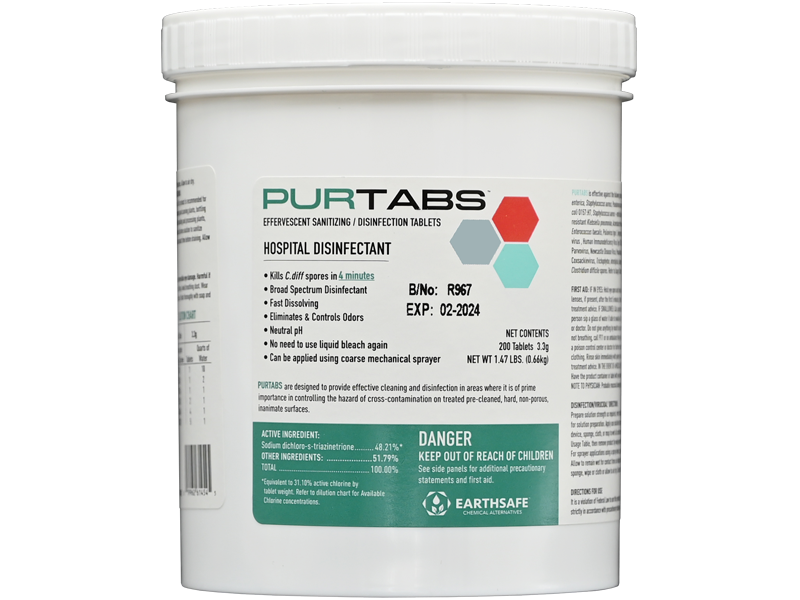 Multi-purpose, powerful disinfecting and sanitizing tablets
Kills SARS-CoV-2 in 4 minutes on hard non-porous surfaces
Several additional virus and bacteria kill claims
NSF D2 Certified: Food contact surface sanitizer
Extremely cost effective at less than $1.00 per ½ gallon
Use 2 tablets per ½ gallon of water in the ViroBlaster
Description:
PurTabs are multi-purpose, effervescent tablets and are a powerful and versatile disinfecting and sanitizing solution which is affordable and efficacious. PurTabs provide powerful disinfection and sanitizing in a sustainable, drop-and-go tablet. PurTabs are listed on EPA's List N for use against SARS-CoV-2, and have countless other bacteria and virus kill claims. PurTabs are NSF D2 certified for use as a food contact surface sanitizer when used as directed. PurTabs formula is OSHA and NIOSH compliant and is easy on occupants and end-users. Use PurTabs with the ViroBlaster (4780-0) to quickly and easily disinfect and sanitize large areas such as schools, nursing homes, restaurants, offices, and more. Only 2 PurTabs are needed per full ½ gallon tank in the ViroBlaster portable electrostatic sprayer. 
| Packaging Size | Part Number | Additional Info |
| --- | --- | --- |
| PurTabs Tablets | 4299-05 | 200 ct. |
Directions:
See product container label for additional precautionary statements and first aid and full directions for use. 
For use in Cleaning and Disinfection on hard non-porous surfaces in beverage and food processing plants, schools, hospitals, nursing homes, child care centers, restaurants, stores, veterinary clinics, zoos and aquariums, dairy farms, farms, poultry premises, industrial facilities, kennels, boarding facilities, laboratories, lab animal facilities, institutions, catering, kitchens, Intensive Care Unit, operating rooms, dental facilities, gyms, health clubs, and restrooms. Effective against Clostridioides difficile spores. Effective against Hepatitis A virus, Hepatitis B virus and Hepatitus C virus.
PURTABS is a Hospital Use Disinfectant. As a Healthcare disinfectant it is effective against standard Gram positive and Gram negative bacteria (Staphylococcus aureus, Pseudomonas aeruginosa and Salmonella enterica and Cold and flu viruses (respiratory syncytial virus, Influenza Virus H1N1). Refer to Usage Table for the appropriate doses and contact times.
PURTABS is effective against the following micro-organisms on pre-cleaned, hard, non-porous, inanimate surfaces: Salmonella enterica, Staphylococcus aureus, Pseudomonas aeruginosa, Klebsiella pneumoniae, Staphylococcus epidermidis, Escherichia coli O157:H7, Staphylococcus aureus – methicillin- resistant (MRSA) & glycopeptide-resistant (GRSA), carbapenem resistant Klebsiella pneumoniae, Acinetobacter baumannii, Streptococcus pneumoniae, vancomycin resistant Enterococcus faecalis, Poliovirus type 1, Herpes simplex virus type 1, Hepatitis A virus, Hepatitis B virus, Hepatitis C virus, Human Immunodeficiency Virus Type 1 (associated with AIDS), Influenza A Virus H1N1, respiratory syncytial virus, Canine Parvovirus, Newcastle Disease Virus, Pseudorabies virus, Canine Distemper Virus, Feline Calicivirus, Norovirus, Coxsackievirus (Type B3), Trichophyton interdigitale, Aspergillus fumigatus, Candida albicans, Mycobacterium bovis (TB) Clostridioides difficile spores (formerly Clostridium difficile) and SARS Associated Coronavirus 2. Refer to Usage Table for solution concentration and contact times.
PURTABS is an effective Healthcare disinfectant tablet against Candida auris with a 2 minute contact time. Refer to Usage Table for solution concentration. PURTABS is designed to provide effective cleaning, and disinfection in areas where it is of prime importance in controlling cross contamination on treated pre-cleaned, hard, non- porous, inanimate surfaces.
PURTABS is a disinfectant that disinfects pre-cleaned, hard, non-porous, inanimate surfaces. This cleaning process may be accomplished with any cleaner solution including PURTABS. PURTABS provides effective cleaning strength that will not dull high gloss floors finishes with repeated use. 
Product Information:
Literature Downloads
Download the product bulletin and other relevant literature here.
Labels
Download a low resolution file of the product label here.