Great Wipes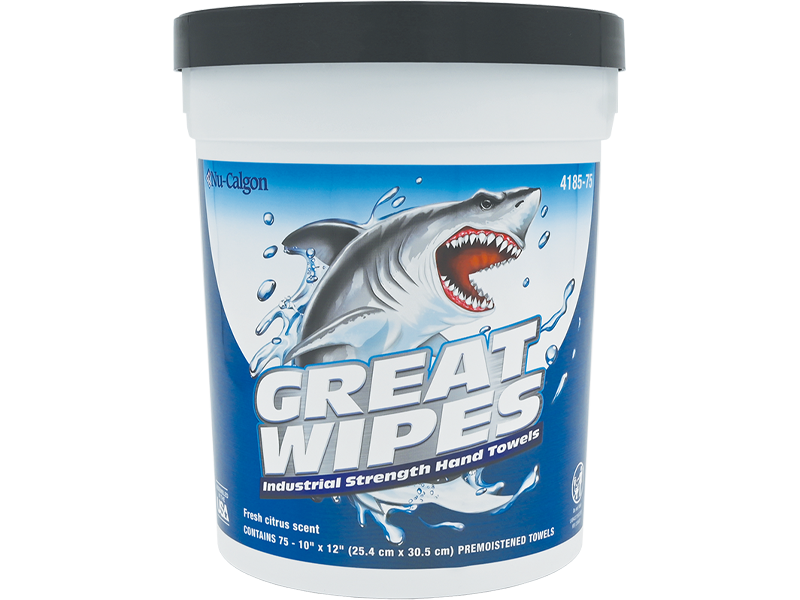 Hand towels made specifically for the HVACR and plumbing service technician
One side for everyday messes, one side for heavy duty grime
Fresh citrus scent
NSF Registered
Description:
Great Wipes Industrial Strength Hand Towels are waterless wipes made specifically for the air conditioning, refrigeration, and plumbing service technician. Each premoistened, heavy duty towel has strong pumice scrubbing power that conveniently cleans anywhere and anytime.
The powerful, yet safe, cleaning agents in Great Wipes work together with an absorbent, non-scratching abrasive hand towel. The result is hands that are clean and left residue-free with a pleasant orange fragrance. These shop size durable towels quickly absorb to remove substances, such as lubricant, grime, ink, tar, caulk, sealant paint, epoxy, adhesive, grease, urethane, and much more.
Great Wipes can also be used to degrease tools, tool boxes, equipment, work surfaces, metal, vinyl, painted surfaces, compressor parts, components, and more.
Packaging Size
Part Number
Additional Info
75 Count Bucket
4185-75
Directions:
This product must be used in accordance to the following directions by HVACR professionals only.
Pull up Great Wipes and snap off along perforation. Open and unfold towel. Use the smooth side for small easy to remove messes and the textured side to remove heavy duty grime. Dispose of towel properly. Reseal container when not in use to ensure moisture retention. In colder climates, protect from freezing; however if they freeze, towels may still be used once they are thawed as the product is freeze/thaw stable.
Product Information:
Literature Downloads
Download the product bulletin and other relevant literature here.
Labels
Download a low resolution file of the product label here.