Vital-Flo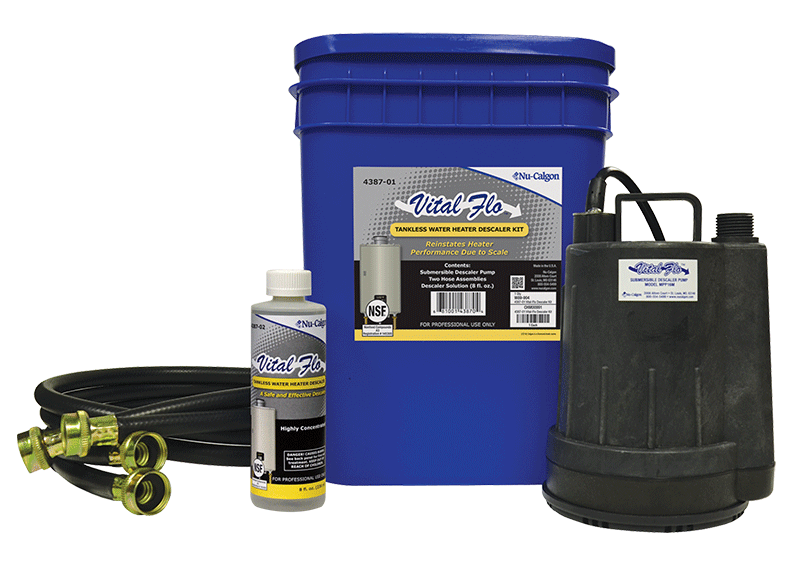 Restore heat and flow capabilities of tankless water heaters by dissolving scale formed by naturally occuring minerals in the water supply. Procedure saves on utility costs
Vital-Flo kit is ideal for use in residential, commercial and industrial locations
Kit simplifies periodic cleaning of tankless water heaters in service
Vital-Flo Descaler is a fast acting, time-proven chemistry ideal for descaling tankless water heaters
Safe on metals in tankless water heater
Description:
The Vital-Flo Tankless Water Heater Descaler Kit is a complete service tool for descaling tankless water heaters. It consists of a submersible descaler pump, a set of five foot 3/4˝ female hose threaded assemblies, 8 fluid ounces of formulated descaler solution packaged in a lidded four gallon chemical resistant container. The pump and hose assemblies in the kit are designed for repeated use for ongoing descaling requirements. The lid on the canister has a port that allows the hose assemblies and electrical cord to be fed through the lid while the lid is fastened to the canister. This feature provides added safety during the descaling process in a residential, commercial or industrial location.
The Vital-Flo Descaler is an effective, proven chemistry for tankless water heat descaling. The solution is available separately and packaged so each bottle is appropriate for a typical service call.
In the process of heating water, tankless water heaters become fouled with efficiency-robbing scale deposits. Unless they are removed, the device will become inefficient and costly to operate.
Nu-Calgon's Vital-Flo Tankless Water Heater Descaler Kit is an easy-to-use tool for descaling tankless water heaters periodically – depending on incoming water quality – to revitalize their performance. Benefits of the descaling include maintaining the end-user's satisfaction with the operation of a properly sized tankless water heater, and reinstates the device's energy savings since heat and flow capabilities are reset at a design condition.
Packaging Size
Part Number
Additional Info
Descaler Kit
4387-01
Replacement Solution
4387-02
Directions:
This product must be used in accordance to the following directions by HVACR professionals only.
If available, refer to the manufacturer's guidelines for equipment prep prior to descaling the water heater. Disconnect power to the tankless water heater.
Turn gas shut-off valve to 'off' position.
Close the hot and cold water isolation valves.
Ensure hot and cold service valves are closed and remove caps.
Fill container with two gallons of water and place under water heater. Remove plug from lid.
Connect first hose to the pump and pass the other end through hole in lid; connect to cold drain valve. Place Vital Flo submersible pump into container.
Connect second hose to hot drain valve and pass other end through hole in lid so that it will drain into container properly.
Pour entire contents (8 fluid ounces) of Vital Flo Descaler into container and snap on lid.
Open both the cold and hot service valves.
Plug the pump into a grounded receptacle. Circulate solution through the heater for 20-45 minutes. Unplug pump.
Close cold service valve. Remove hose from cold water service valve and replace cap. Leave other hose connected to hot water service valve.
Remove pump from container and disconnect hose. Discard solution. Always purge pump with fresh water after use.
Flush tankless water heater for 5 minutes by opening the cold water isolation valve and allow water to flow out the hot water service valve to drain or into the container. If container is used, it must be emptied several times.
Close hot service valve, remove hose and replace service cap. Open hot water isolation valve.
Connect power to water heater, open gas valve and return device to service.
Product Information:
Literature Downloads
Download the product bulletin and other relevant literature here.
Labels
Download a low resolution file of the product label here.
Product Safety
VITAL-FLO TANKLESS WATER HTR KIT DESCALER

VITAL-FLO TANKLESS WATER HTR 12X13.2 OZ CS DESCALER