NuLock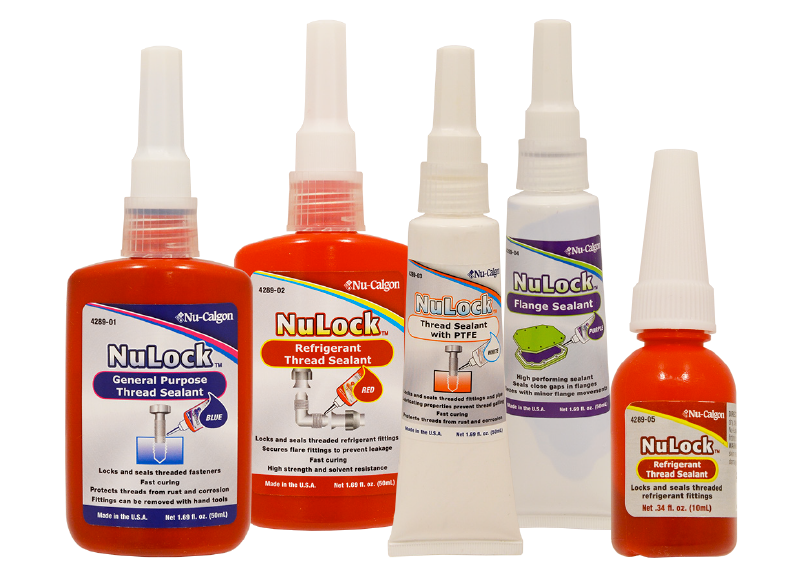 Multiple formulations for different applications
NuLock general purpose thread sealant and locking formulation for metal fasteners in a variety of applications
NuLock refrigerant thread sealant for metal fasteners in refrigerant systems
NuLock thread sealant with PTFE for use with metal threaded pipe and fittings
NuLock flange sealant to aid in sealing small gaps on rigid metal faces and flanges
Quick and easy to apply -- fast curing
Description:
SEALANTS FOR THREADED METAL FASTENERS AND RIGID FLANGES FOR THE HVAC/R MARKET
NuLock's anaerobic-based formulations are for metal fastener thread locking and sealing; including sealing of metal flange connections.  NuLock is especially useful for flare fittings used in the HVAC/R market to improve their sealability and thread locking of these mechanical fasteners that are susceptible to leakage due to vibration.
An anaerobic-based sealant remains liquid until isolated from oxygen with metal contact in fitting threads.  To cure, the product requires lack of oxygen in close contact in fitting threads.  Product cures due to lack of oxygen in close contact of metal surfaces.  The process results in a chemical resistive cross-link polymer with great adhesion to metals that provides both a thread sealant and locking - depending on the application.  
NuLock is highly resistant to heat and vibrations, with excellent chemical resistance and temperature range.  Simple hand tools are required when fasteners need to be dissembled. 
Packaging Size
Part Number
Additional Info
NuLock, General Purpose Thread Sealant
4289-01
NuLock, Refrigerant Sealant
4289-02
NuLock, Sealant with PTFE
4289-03
NuLock, Flange Sealant
4289-04
NuLock, Refrigerant Sealant
4289-05
Directions:
Directions:
Surfaces should be dry, clean, and free of contamination.  Never use NuLock on plastic fittings - only mechanical connections.  Apply a generous 360 degree bead of NuLock in the leading threads of the metal male fitting, less the leading thread.  
Apply NuLock in sufficient quantity to fill threads to prevent a product void when connecting mating fasteners.  For bigger pipe thread connections, adjust product use to fill thread volume accordingly, including applying a bead of NuLock on the female threads as well for best sealing and locking results.
Flare fittings:  Apply a small amount of NuLock on the machined flared surface aid in sealing.   This is especially advantageous when there are imperfections on the machined face surface.  This is addition to applying NuLock to the male threads to lock the connector in place so it does not loosen over time due to vibration.
Compression fittings:  Apply a small amount of NuLock on the brass compression sleeve and tube to improve the seal area if this a concern.  Use NuLock on the male threads of the compression fitting to lock the fastener in position so it does not loosen over time due to vibration.
All threaded metal fasteners:  Assemble parts after NuLock has been applied and tighten as required.  The handling cure time for NuLock is 10+ minutes. The product functionally cures in 24 hours.  Recap the NuLock cap tightly to the bottle for future use.  Never return any dispensed NuLock sealant back to its original bottle.
Flanges:  For close fitting metal flange parts with a gall fill requirement of 0.01 inches (0.25 mm).  Never use NuLock on plastic mating surfaces.  Low pressure may be used to confirm a complete seal immediately after assembly before product cures.  Tighten flange assembly as soon as possible to avoid any shimming in the seal area. 
Storage:  Optimum storage for NuLock is in its original unopened bottle in a conditioned environment ranging from 46 to 82 degrees Fahrenheit.  
Product Information:
Literature Downloads
Download the product bulletin and other relevant literature here.
Labels
Download a low resolution file of the product label here.
Product Safety
NuLock, General Purpose Thread Sealant

NuLock, Refrigerant Sealant

NuLock, Sealant with PTFE

NuLock, Flange Sealant

NuLock, Refrigerant Sealant