Soak-N-Solv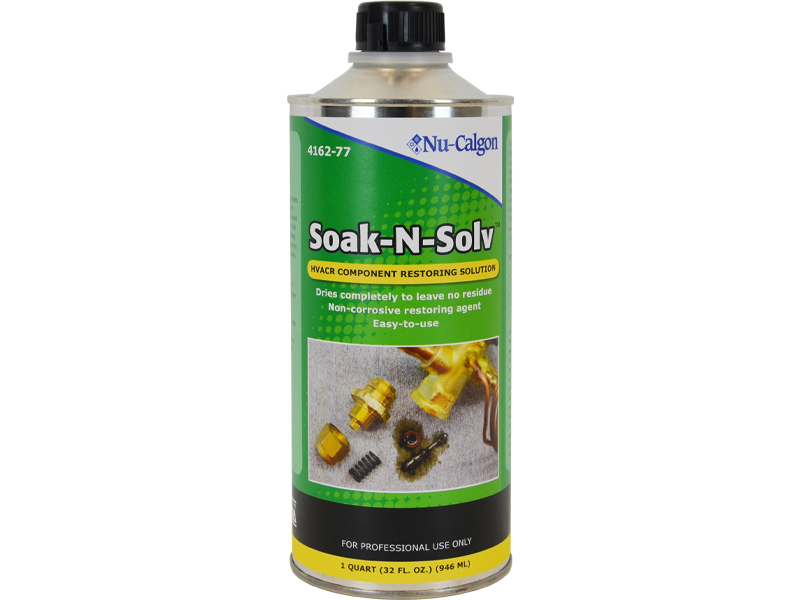 •Dissolves contaminants in seconds
•Dries at a controlled rate-leaves no residue
•Restoration time will vary based on soil load
•Non corrosive to metal surfaces
•High dielectric strength
•Easy-to-use
Description:
Soak-N-Solv is a unique ready-to-use restoring compound, specially formulated for HVACR components. Use Soak-N-Solv to restore internal assemblies of TEVs, solenoid valves, PRVs and other refrigerant flow devices. Soak-N-Solv can also be used to restore metal parts of a compressor rebuild, fan blades, flange assemblies, fasteners and other HVACR related components.
| Packaging Size | Part Number | Additional Info |
| --- | --- | --- |
| 1 Quart | 4162-77 | 32oz Can |
Directions:
This product must be used in accordance to the following directions by HVACR professionals only.

For spot treatment, apply undiluted Soak-N-Solv with a rag, brush, or applicator. Heavily soiled or greasy components can be soaked in a container of Soak-N-Solv. If necessary, rinse with a second treatment of Soak-N-Solv. Repeat as necessary. Protect rubber, fiberglass, and plastic parts from over spray. Keep away from open flames and other ignition sources, and do not smoke while using. Use in a well ventilated area. Wear protective gloves, protective clothing, eye protection and face protection. Keep container tightly closed when not in use. Refer to product label for additional safety precautions.
Product Information:
Literature Downloads
Download the product bulletin and other relevant literature here.
Labels
Download a low resolution file of the product label here.