Vacuum Pump Oil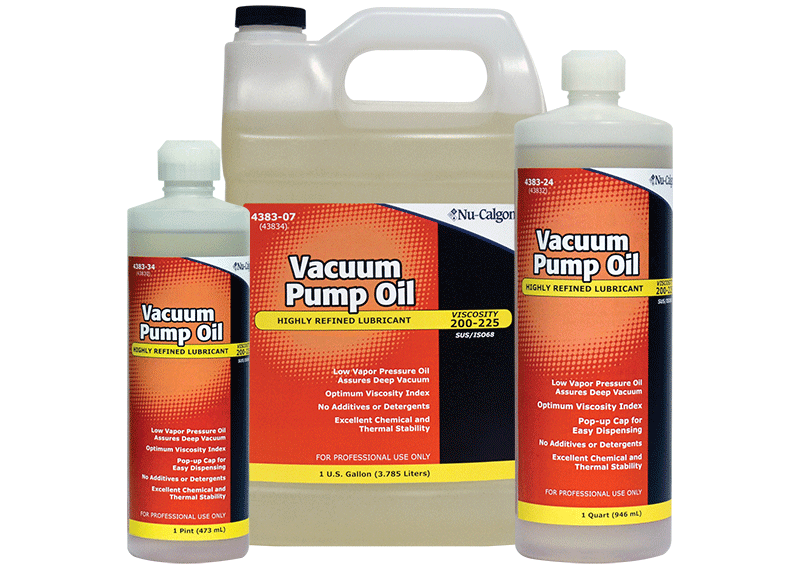 A multi-viscosity oil as specified by its viscosity index of 100. Multi-viscosity oils provide for peak performance at wide temperature and pressures
Lubricates and seals at operating temperatures developed by pump
Very low vapor pressure. A critical characteristic of a vacuum pump oil
"Pop-up" caps on pints and quarts for complete ease of pouring into pump's oil port
Description:
Nu-Calgon Vacuum Pump Oil is a quality blend of high-grade lubricants, providing for oil that performs at the deepest vacuum. It lubricates to minimize wear and provide surface protection, and its high viscosity index assures adequate lubrication at high and low pressures. In addition, its broad package line guarantees the right package size for all levels of service activity, from the service professional handling only an occasional evacuation to the one conducting several every day.
Packaging Size
Part Number
Additional Info
1 Pint Bottle
4383-34
1 Quart Bottle
4383-24
1 Gallon Bottle
4383-07
55 Gallon Drum
4383-01
Directions:
This product must be used in accordance to the following directions by HVACR professionals only.
Change the oil in the vacuum pump after every use of the pump.
During pump operation, moisture as well as other contaminants like acids, vapors, etc. are easily absorbed into the vacuum pump oil. If the vacuum pump oil is not changed after absorbing such contaminants, it will become dirty and keep the pump from performing at design capacity (i.e., it will not reach its ultimate vacuum). Moreover, this will result in longer pump down time as well as excessive wear on integral parts of the pump.
Drain used oil from pump. If it appears exceptionally dirty or sludged, power flush the pump according to the pump manufacturer's recommendations; power flushing helps to cleanse the pump of the old contaminated oil residuals. After power flushing, refill pump with fresh, new vacuum pump oil. View oil through sightglass and test the unit's ultimate vacuum. If oil appears dirty or if vacuum is unsatisfactory, change oil again.
See back side of bulletin for oil changing capacities for some of the more frequently used vacuum pumps.
Product Information:
Literature Downloads
Download the product bulletin and other relevant literature here.
Labels
Download a low resolution file of the product label here.
Product Safety
VACUUM PUMP OIL, 24X1 PT CS

VACUUM PUMP OIL, 55 GAL DR

VACUUM PUMP OIL, 12X1 QT CS

VACUUM PUMP OIL, 6X1 GAL CS