Zerol Alkylbenzene Oil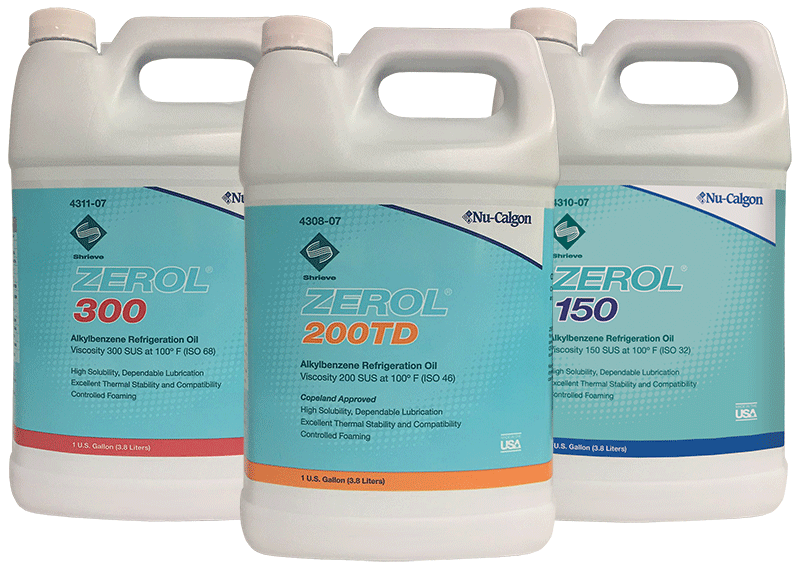 Excellent miscibility & compatibility with all CFC & HCFC refrigerants
Recommended by OEM's for use with HCFC-based service blends
Copeland approved (Zerol 200TD)
Oil of choice for retrofitting with R401a, R401b, R402a, R402b and R123
Excellent "clean-up" and replacement oil in burn-outs
Description:
Zerol Refrigeration Oil is a high-quality, premium synthetic alkylbenzene refrigeration oil. It is similar in many ways to natural mineral oils but has superior properties that make it particularly valuable in refrigeration, air-conditioning applications. It is available in three grades: Zerol 150 (150 SUS), Zerol 200TD (200 SUS) and Zerol 300 (300 SUS).
Zerol 200TD is a unique formulation of the alkylbenzene in that it contains a special additive package. This package includes an extreme pressure or EP lubricity additive as well as an additive that provides controlled foaming in specific operating conditions. It is preferred by Copeland for field service applications with the HCFC-based service blends.
| Packaging Size | Part Number | Additional Info |
| --- | --- | --- |
| 1 gallon | 4310-07 | Zerol 150 |
| 5 gallons | 4310-05 | Zerol 150 |
| 55 gallon drum | 4310-01 | Zerol 150 |
| 1 gallon | 4308-07 | Zerol 200TD |
| 5 gallons | 4308-05 | Zerol 200TD |
| 55 gallon drum | 4308-01 | Zerol 200TD |
| 1 gallon | 4311-07 | Zerol 300 |
| 5 gallons | 4311-05 | Zerol 300 |
| 55 gallon drum | 4311-01 | Zerol 300 |
| 5 gallons | 4311-65 | Zerol 400CA |
Directions:
This product must be used in accordance to the following directions by HVACR professionals only.
In systems utilizing mineral oils where a moderate burn-out has occurred, Zerol can be used to flush and clean up the system. Zerol will emulsify the acid by-products, burnt oil and wax that result from such burn-outs, and allow the system to be flushed clean. Use the following general procedure:
Remove burned-out compressor and disconnect electrical leads.
Remove expansion valve (or cap tube) and install by-passes.
Replace suction and liquid line filter driers.
Use connections where burned compressor was located, and push Zerol 150 through the system with a positive displacement pump. Use a volume of Zerol 150 equal to three times the amount (weight) of refrigerant typically charged into the system. Although the system may possibly operate on Zerol 150, Zerol 300 or Zerol 200TD, we recommend the use of 150 for the flushing as it is a lighter cut oil and will therefore perform the task more effectively.
Circulate for 2-4 hours, change filters often. Then remove Zerol cleaning solution from system.
Blow nitrogen through system.
Install new compressor as well as other removed components and triple evacuate the system; conduct leak check.
Operate the system with fresh refrigerant and Zerol of the proper viscosity (150, 200TD or 300).
Check system. If oil discolors, replace oil and filter-driers.
Product Information:
Literature Downloads
Download the product bulletin and other relevant literature here.
Labels
Download a low resolution file of the product label here.
Product Safety
ZEROL 150 6X1 GAL CS

ZEROL 150 5-GAL PL

ZEROL 150 55-GAL DR

ZEROL 200TD 6X1 GAL CS

ZEROL 200TD 5-GAL PL

ZEROL 200TD 55-GAL DR

ZEROL 300 6X1 GAL CS

ZEROL 300 5-GAL PL

ZEROL 300 55-GAL DR

ZEROL 400CA 5 GALLON PAIL